It's October, which can only mean one thing – Halloween party planning! If you haven't started planning for the spooky season, don't worry! The Wristband Co. is here to help with all your Halloween party ideas and planning needs. And remember, after all, a Halloween party is just like any other party. And we all know that the best parties are the ones that are well planned out in advance so that you can relax and enjoy the event when it arrives!
How to Throw An Unforgettable Halloween Event – Pick Your Theme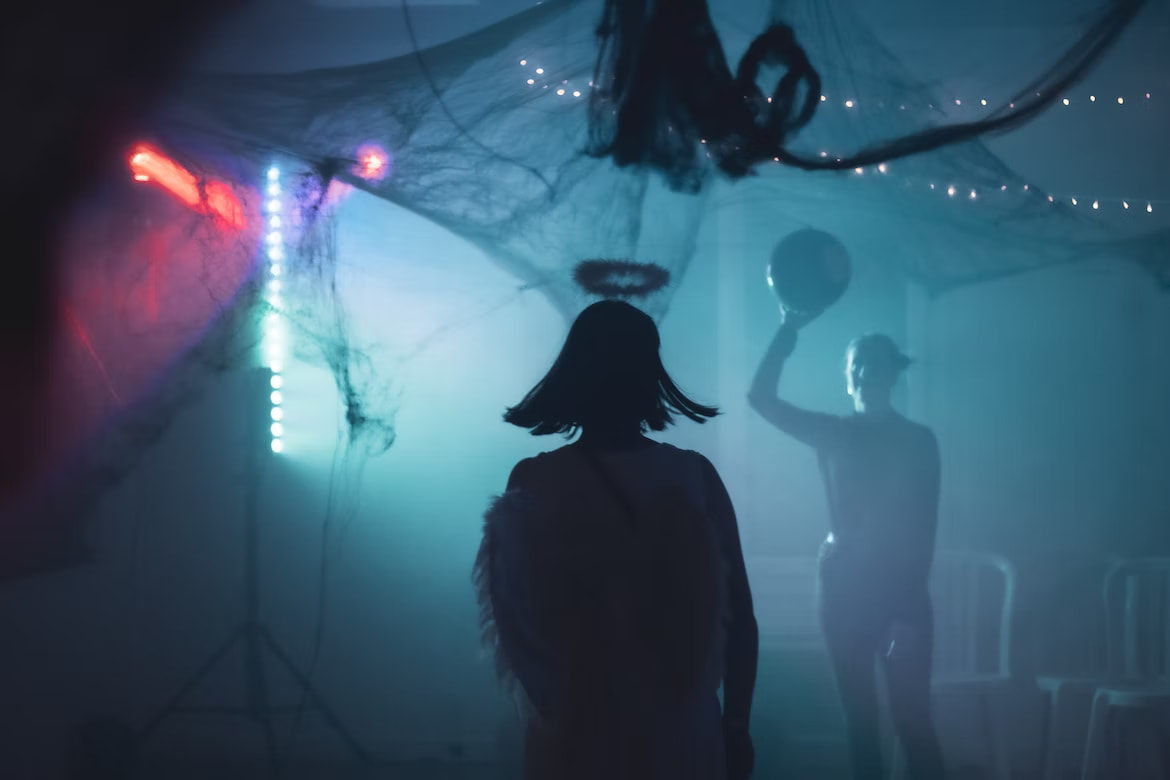 It almost goes without saying that a Halloween party will be themed. It is the one day of the year that the whole world gets on board with fancy dress and crazy cosplay. But take your Halloween party to the next level with a more specific theme and dress code.
Depending on the event and the crowd you are hoping to attract, you can keep it simple with more available themes like zombies, vampires, ghosts & ghouls, and witches.
However, if you want an even more sophisticated Halloween theme, you can choose a specific historical event or time period, a current Netflix series, or a cult-classic film. The Wristband Co. has seen some great parties planned around The Rocky Horror Picture Show – perhaps just for the adults – Stranger Things, the Victoriana Era. Plus, some fantastic customised wristbands to add to the excitement of bespoke Halloween events.
Pick Your Day And Time
A Halloween event is, of course, tied to a specific date, and your party needs to happen near this date – as close as possible to be an authentic Halloween party. However, some days and nights lend themselves to better party atmospheres than others. For example, in 2022, Halloween lands on a Monday. So Mondays might work well for an evening children's Halloween party, with an after-school party with Halloween games and trick-or-treating. However, if you want to organise a daytime children's Halloween event, this needs to be planned when children are available, i.e., on the weekend.
Likewise, suppose you're looking to encourage a more adult crowd for an evening of dancing, drinks, and delicious Halloween food. In that case, your Halloween party will be better planned over the weekend.
As you can imagine, the days and evenings surrounding Halloween are in hot contention, so you must get organised. First, ensure your guests and potential audience know when your event is happening. Next, consider how you will promote your Halloween party and the date or time. Depending on your attendees, you might want to use written invites – email or posted; external banners, posters, and adverts; or digital channels – social media, websites, and more.
We would recommend a combination of methods to reinforce your launch and messaging. By covering some key communication points, you are more likely to engage and encourage as many attendees as possible. This will also help promote more word-of-mouth recommendations and wider conversations around your Halloween party.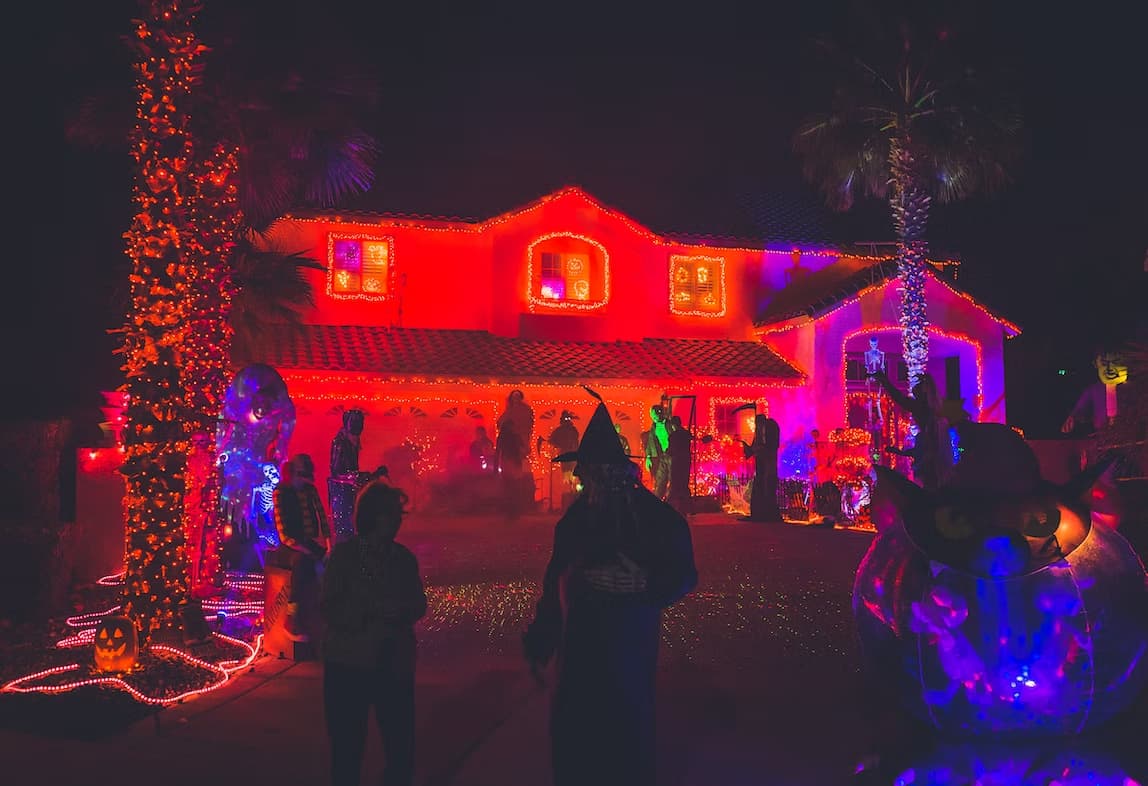 Pick The Venue
The venue for your Halloween party is so important and will contribute to the success of your event. First, you need to consider how large your event will be. Can you accommodate your party-goers in a residential setting? Or do you need a larger, more professional environment? If you're a business, will you be hosting it at your own premise or a partner venue? Can you get creative with your event venue? For example, an old school building could be an excellent location for a Stranger Things Halloween party.
If you are hosting a party in a residential setting, then you will likely know what decoration, furniture, kitchen setup, etc., you are working with. If you want to rent a venue, ensure you understand what is included in your venue and what you need to source yourself. For example, furnishings, bar service, and waiting staff. Also, what time can your party stay open – do they have a late-night license? Are there any restrictions on the venue – for decoration, selling alcohol, or party times?
Then make sure you think about the accessibility of your venue – can your guests easily get to and from your Halloween party? Do you need to recommend transport options – or provide them? Plus, is the venue itself accessible for differently-abled attendees? Are there plenty of bathroom facilities? Things like this might seem less important. However, these are the elements that contribute to a well-organised, flowing event.
If you're in Adelaide and looking for the scariest venue of them all, have you considered the historic Adelaide Gaol? Not only do they run Halloween-specific events, but they also offer complete venue hire. Learn more here.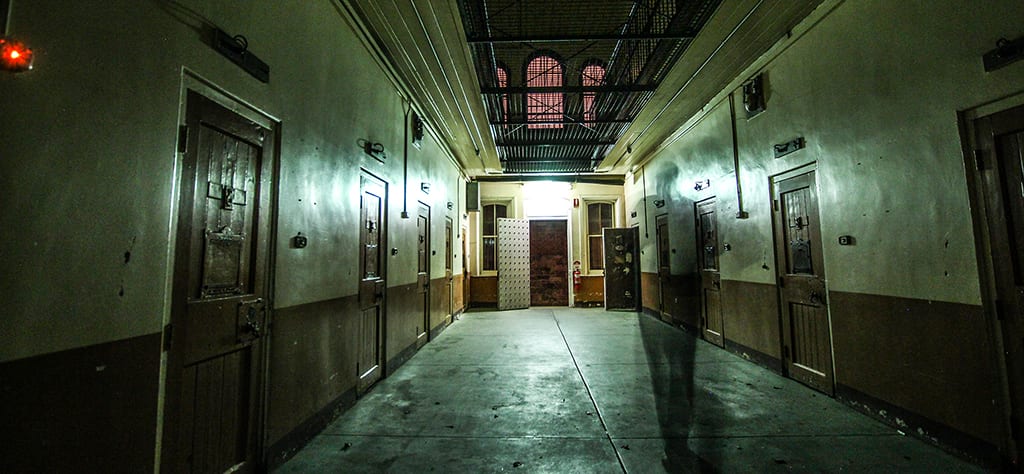 Pick The Guest List
You've reserved your date and chosen the perfect location. Now you need to coordinate the ideal guest list. Any party planner knows that the right volume and mix of guests will make your Halloween party a resounding success.
Remember how you chose to communicate your Halloween party. Was it online via email and social media? Or posters and physical advertising. Whichever method you have chosen, you need to remain in communication with your event attendees before the Halloween party.
The size of your event will often dictate your chosen communication style. For example, a private, more intimate party might lead to phone calls and in-person conversations. However, larger-scale events with hundreds of attendees will benefit from social media posts and direct email – but you might want to maintain a VIP element with selected attendees.
Providing Halloween party wristbands can help you to build excitement around your party. But they can also help you communicate important event information. You can include information on your Halloween wristbands, like access to VIP areas, parking, and transport tickets. Wristbands are the perfect Halloween event accessory for your guests, an easy way for them to carry information – you could even add a QR code for your guests to scan to take them to a page with more information or even your social media pages to encourage them to share pictures of your event!
Pick Your Lighting And Audio Visual
Something often forgotten about is the lighting and music at your event.
A large part of creating the right ambience, lighting should not be overlooked. Especially at Halloween, when your party theme might require specific mood lighting, often less than a typical party.
In a residential setting, you can get creative with side lighting, coloured lightbulbs, draping material and scarves over lighting, and string lights. While some of these options might work in larger venues, you might want to consider consulting a lighting specialist, either through the event venue or a professional party planner.
The same is valid for music and sound systems. Domestic speaker systems might work for your residential party, and all you need to focus on is creating the perfect Halloween party playlist. However, if you're planning a professional event and want music to be part of it, you will need to find a professional service. Do you want a live band playing? Or will it be a DJ? Both will be in high demand for Halloween party events, so do your research and book in advance. Also, make sure you coordinate with your venue to make sure they can accommodate a band or DJ. Do they have a specific stage or area for musicians, or do you need to create this with them?

Pick Your Decorations
Now it's time for the fun part! Halloween party ideas and decorations. It can be easy to get carried away with your Halloween decorations when all the shops are filled with pumpkins, spider webs, and more.
Before buying party decorations, check in with your venue and see what they already have available. Also, find out if there are any restrictions on what you can or cannot do.
Your next step is to walk about your event venue and plan out the pieces that you want to find. It can be worth researching online what is available, where and at what price, as this can help to prevent impulse purchases often made in person.
Make sure to ask yourself whether the decorations you are looking at add to the overall Halloween party atmosphere and do they fit with your theme. For example, our Halloween wristbands are a great organisational tool for your event, but they also add to the theme and decoration of your Halloween party. They are also a perfect option for a Halloween-themed party invite. If you want to create your own unique Halloween wristbands, give our easy-to-use wristband design a try here!
As well as decorating your venue, don't forget about smaller items, like tabletop decorations, competition prizes, party bags, and take-home items. These items live on after your party with your attendees and become mementos of a fantastic event.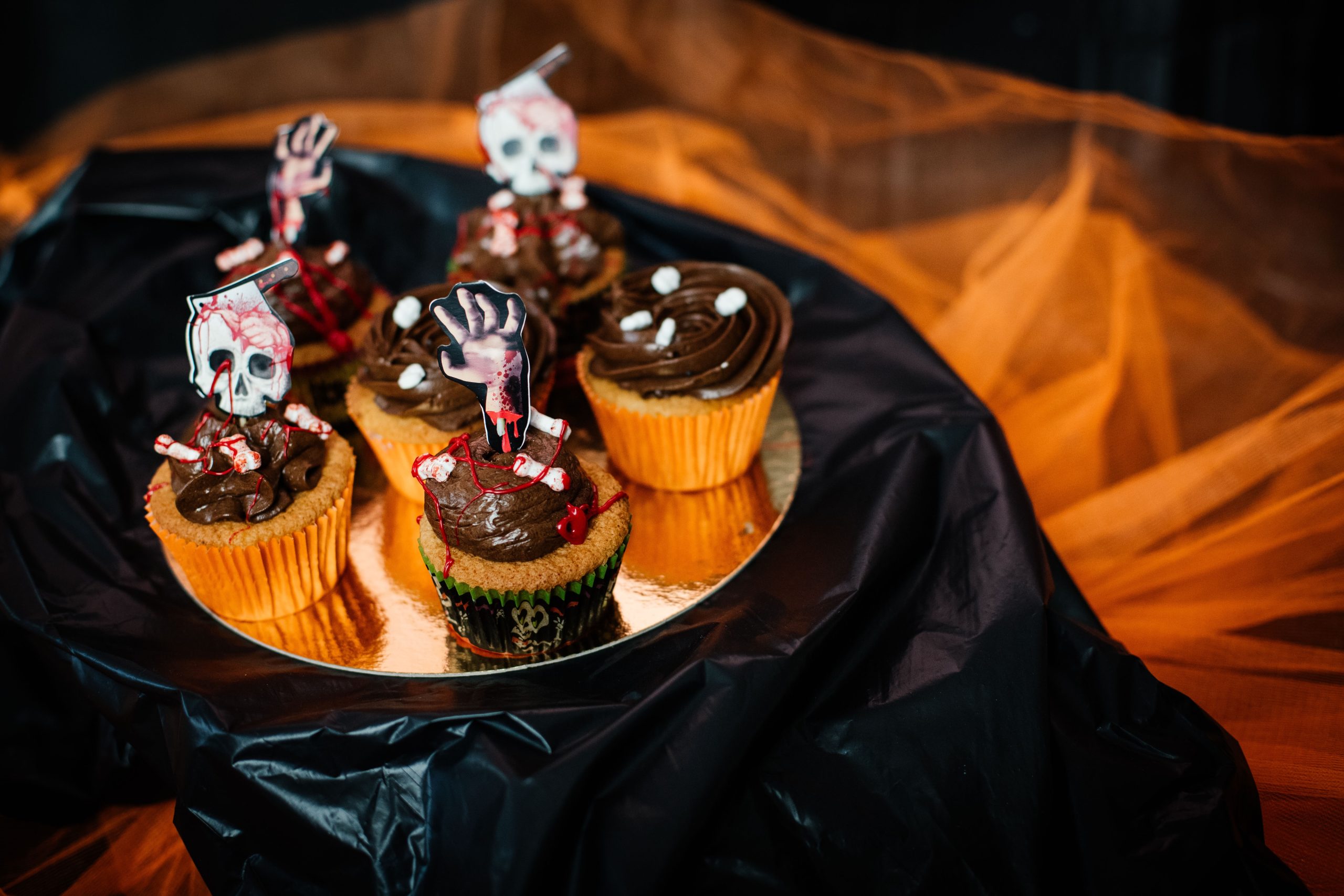 Pick Halloween Food
When planning your Halloween party food or menu options, many choices are dictated by your theme and event attendees. However, we would always recommend outsourcing your Halloween catering to an external company. With larger Halloween parties, this is often a given. However, the host usually takes on catering smaller residential parties.
While it might add to the budget, creating a great Halloween-themed food menu that also tastes delicious can be incredibly time-consuming. So think about outsourcing this to focus on other areas of your Halloween party, like decorating or coordinating your guests.
Our biggest tip? Halloween is when it is acceptable – for all ages – to have some fun with your food options! From the names of dishes to spooky cupcakes, now is the time to get creative. Fun food options add to the atmosphere of your event, but there is also a secondary motive. People love to take photos of their food and drink. So encourage this and make your Halloween party food Instagrammable. It's the perfect opportunity to get your party talked about and promoted on your attendees' social media. The best advertising for next year's Halloween party!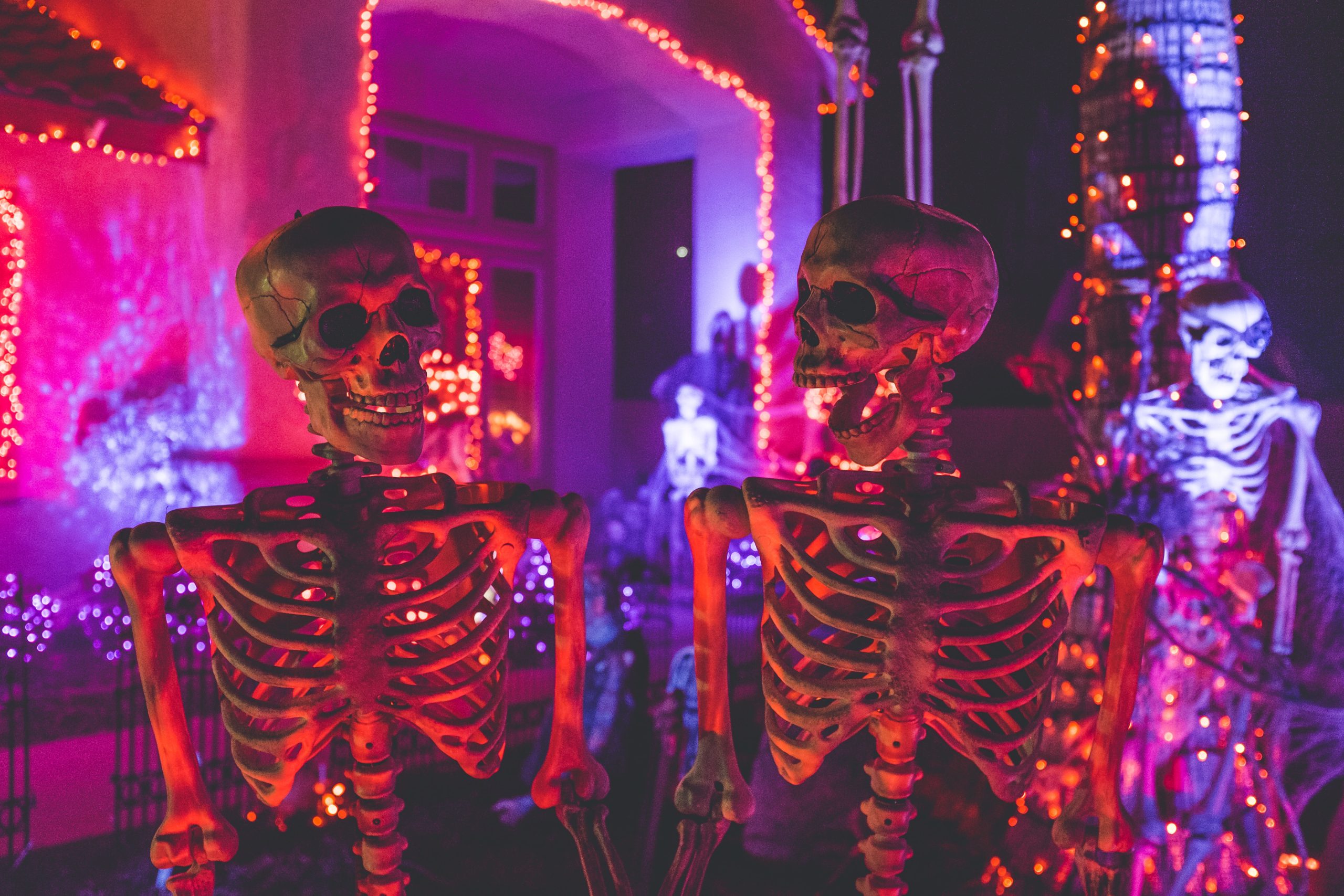 Pick Your Halloween Games and Activities
Halloween brings out the child in all of us. Whether planning a children's event or an adults' evening party, people often want to get involved and expect to play Halloween party games, decorate the venue, and more. And why not encourage this? Inviting your attendees to contribute to the Halloween party makes them feel included and part of something special.
Plus, asking your event attendees to help you plan or decorate your Halloween event venue in this roundabout way also allows you to outsource some of the work involved in creating a successful Halloween party.
You can ask your attendees to take part in competitions. For example, before the event, you could ask for spooky food suggestions or cocktail recipes, the best ones to feature at the event. During the Halloween party, invite attendees to carve pumpkins (and then display them all) or create a piece of decoration at an arts or crafts table. And, of course, prizes for the best Halloween costumes are a must for most events!
Looking To Planning Your Next Event?
At The Wristband Co., we regularly work with customers planning events of all sizes. From parties held in nightclubs to large-scale festivals, we are happy to assist in any way we can, helping you find the right wristbands for your event. Get in touch with us today on 08 8363 4850 or email us at [email protected] for more information.
Meet the Author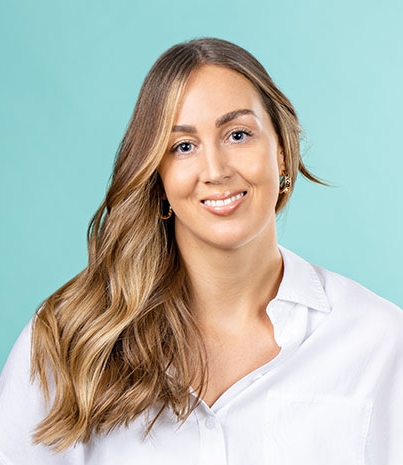 Laura Sayer – Marketing Specialist at The Wristband Co.