Pre-Designed Tickets vs. Custom Tickets: Which One Fits Your Event?
Are you planning an event in Australia? Whether it's a corporate gathering, a sports match, or a buzzing music festival, you'll need tickets to get your attendees through the gate. But when it comes to choosing the right ticketing option, should you go for pre-designed tickets or opt for custom ticket books? We're here to guide you through this decision-making process, tailored to the diverse needs of Australian event organisers. Let's explore the advantages and limitations of both options, so you can make the best choice for your unique event.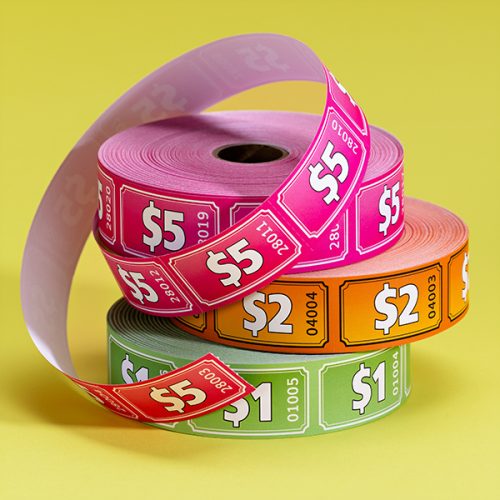 Understanding pre-designed tickets
Let's start by unpacking what pre-designed tickets have to offer. At The Wristband Co., we've got a wide range of pre-designed ticket rolls that are just a click away. These are your go-to choice if you're looking for hassle-free, ready-made solutions.
The beauty of pre-designed tickets lies in their accessibility and versatility. Our website boasts a treasure trove of designs, catering to various themes and colour schemes. Whether you're organising a local football match, a school fete, or a community fundraiser, you'll likely find a pre-designed ticket that fits your event like a glove.
The convenience factor is a game-changer here. You can simply head over to our pre-designed tickets page and browse through the different options available. With just a few clicks, you can select the design and colour that best suits your event's vibes. It's a time-saver that will let you focus on other aspects of event planning. Plus, they are dispatched the same day your order is placed and can be with you the next business day with our overnight shipping option.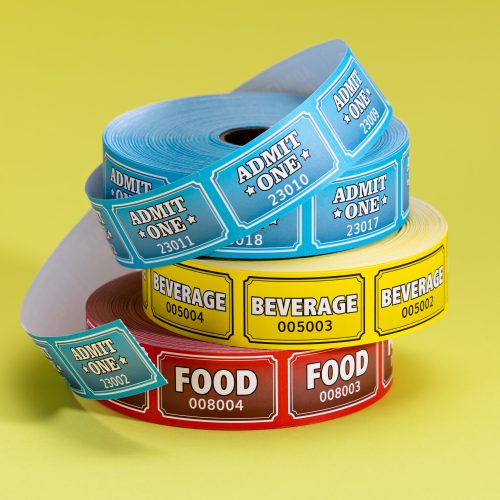 Exploring custom ticket books
Now, let's step into the world of custom ticket books. Custom ticket books offer you a level of flexibility that pre-designed tickets can't match. When you opt for custom tickets, you have the creative freedom to incorporate event-specific details, branding, and logos, making your event tickets uniquely yours.
Imagine hosting a music festival, where your tickets are a canvas to showcase your festival's vibrant theme, featuring your logo, the event date, and essential information. Custom ticket books can make this vision a reality.
Much like our full-colour wristbands, creating custom tickets is a breeze. Head to The Wristband Co.'s custom ticket books page, where we provide you with templates and sizing guidelines that you can easily download. You can then put your creativity to work using popular software tools like Canva, Photoshop, or Illustrator. This empowers you to design custom tickets that perfectly align with your event's branding and theme, ensuring that every aspect of your event is a harmonious experience. 
The image below shows where you can download the templates for our custom ticket books. Once downloaded, you can upload into Canva, PS or AI to create your tickets before re-uploading them to our website to complete your order! We print and dispatch your ticket books ourselves from our office in Kent Town, South Australia. Because of this, we offer a dispatch time of just two business days for custom tickets – the fastest anywhere in Australia.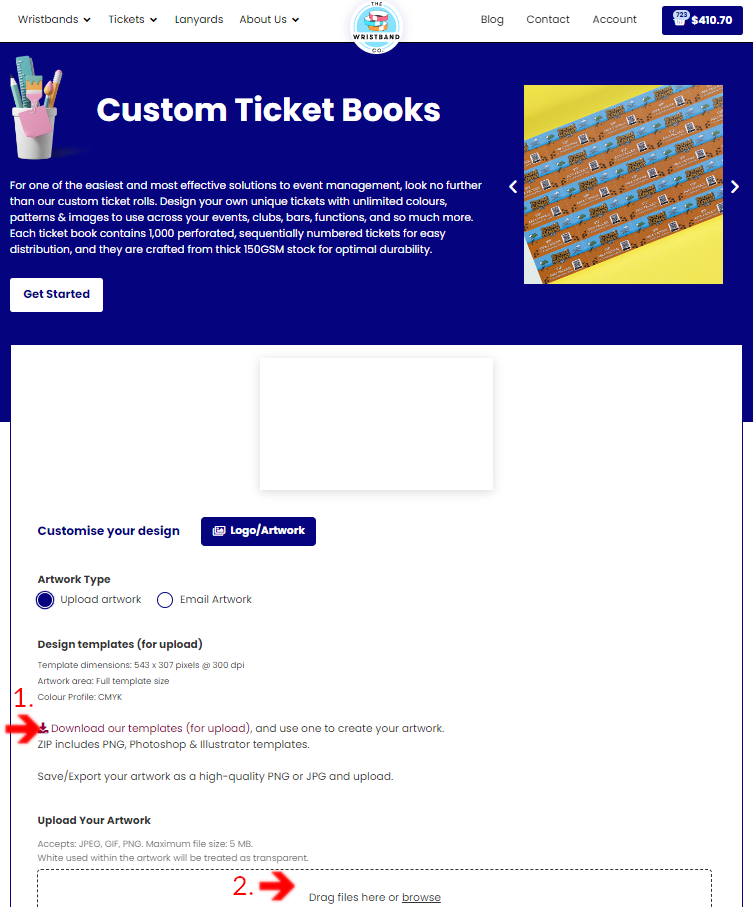 Pros and cons of pre-designed tickets
Now, let's weigh the pros and cons of pre-designed tickets:
Pre-designed ticket pros
Ready-Made Convenience:

Pre-designed tickets offer the convenience of a simple, ready-to-use solution. It's a hassle-free choice for event organisers with limited time.

Cost-Effectiveness:

Budget-conscious? Pre-designed tickets are the way to go, offering a budget-friendly ticket option. They provide an affordable solution without sacrificing quality. 1,000 tickets cost $30.55 including GST and standard shipping – no hidden costs at the checkout!

Quick Turnaround:

You can expect a fast turnaround with pre-designed tickets. They are readily available, ensuring that you receive your tickets promptly. We offer same day dispatch as standard with these tickets.
Pre-designed ticket cons
Limited Customisation:

Pre-designed tickets come with a limitation – you have less room for customisation. While they cover a variety of themes, they might not be suitable for highly specific events.

Potential Lack of Uniqueness:

Since pre-designed tickets are accessible to a broad audience, there's a possibility that another event may use the same or similar design. This could affect the uniqueness of your event.

Less Suited for Highly Specific Events: If you're hosting an event with particular requirements or a unique theme, pre-designed tickets might not be the best fit.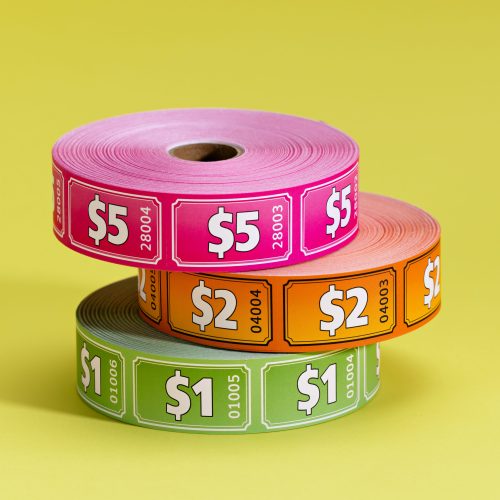 Pros and Cons of Custom Ticket Books
Next, consider the pros and cons of custom ticket books:
Pros for custom ticket books
Complete Customisation:

Custom ticket books provide the freedom to create tickets that align with your brand, event theme, and vision. You have full control over the design and content.

Brand Alignment:

Custom tickets allow you to reinforce your brand identity and create a memorable experience for your attendees by showcasing your branding, logo, and messaging.

Ideal for Special Events:

Custom ticket books are the way to go for special occasions and significant events. They make a strong statement and elevate the overall event experience.
Cons for custom ticket books
Higher Cost:

The trade-off for complete customisation is a higher cost. Custom tickets may be more expensive than pre-designed ones, which is crucial factor for event organisers looking for budget-friendly tickets. 1,000 custom tickets cost $96.36 including GST and standard shipping – no hidden costs at the checkout!

 

Requires Detailed Design Planning: Custom tickets demand careful design planning. You'll need to invest time and effort to ensure your tickets convey the message and branding you desire.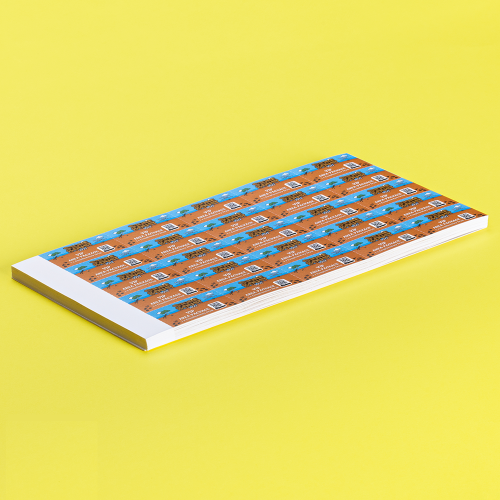 Budget considerations play a significant role in choosing between pre-designed and custom tickets. If you're on a tight budget, pre-designed tickets are the budget-friendly ticket choice. They offer a cost-effective solution without compromising on quality. However, if your budget allows and you want to create a unique, lasting impression, custom ticket books provide that special touch.
To optimise your budget, consider the scale and significance of your event. For smaller local club events or fundraisers, pre-designed tickets can do the job effectively. Investing in custom ticket books can help you create a memorable experience and reinforce your brand's identity when hosting major events, like grand festivals or high-stakes corporate gatherings.
Expert Tips and Recommendations
To help you make the right choice for your event, these are the key points we would suggest focusing on and answering with your business or events team. 
When Pre-Designed Tickets Are Suitable: Pre-designed tickets are most suitable for smaller, recurring events, such as weekly local sports matches, school functions, or community fundraisers. These events can benefit from the cost-effectiveness and convenience of pre-designed tickets.
When Custom Designs Are Necessary: Custom ticket books are a must for significant events, medium to large businesses, grand openings, or occasions that demand a strong brand presence. They help you create a unique and memorable experience for your attendees.
Align Ticket Choices with Event Goals: Before making a decision, consider your event's goals. Are you looking to maximise profits, create a memorable experience, or reinforce your brand's identity? Align your ticket choices with these objectives.
In Australia, where events play a significant role in bringing communities together, choosing the right tickets is vital. Pre-designed tickets offer convenience and budget-friendly tickets, while custom ticket books provide the creative freedom and brand alignment you need for special occasions. By understanding the pros and cons of each option and considering your budget, you can make an informed choice that perfectly fits your event's unique requirements.

We encourage you to explore The Wristband Co.'s offerings, whether you're after pre-designed tickets for a local sports club match or custom ticket books to make a grand statement at your festival or business event. Your event's success begins with the right ticket choice, and we're here to help you every step of the way.
At The Wristband Co. we regularly work with event organisations of all sizes. We are happy to assist in any way we can, including helping you find the right wristbands, lanyards and ticket rolls for your next event.
Get in touch with us today on 08 8363 4850 or email us at [email protected] for more information.
You can find out more about our company here.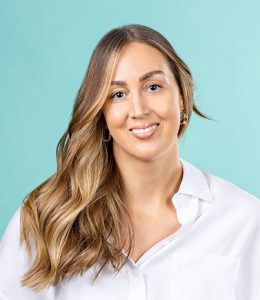 Laura Sayer, Co-Founder
Connect with Laura on LinkedIn
With a strong marketing background, Laura is driven to provide sustainable solutions that enhance event and business organisation while also elevating security measures. Her passion for exceptional customer service has been the catalyst for The Wristband Co.'s growth. Under her guidance, the company has established a reputation for delivering high-quality wristbands that are affordable and environmentally conscious.