A comprehensive guide to the differences, benefits, and considerations
Wristbands are a popular tool for events, fundraisers, business management and even medical purposes. However, one of the biggest questions we hear at The Wristband Co. is which wristband material is right for me? With so many materials available for wristbands, it can be overwhelming to decide which material is right for you, from Tyvek wristbands to silicone, fabric, and photo-finish wristbands. There are many wristband materials to choose from.
This guide will help you navigate the options and find the perfect fit for your needs.
Tyvek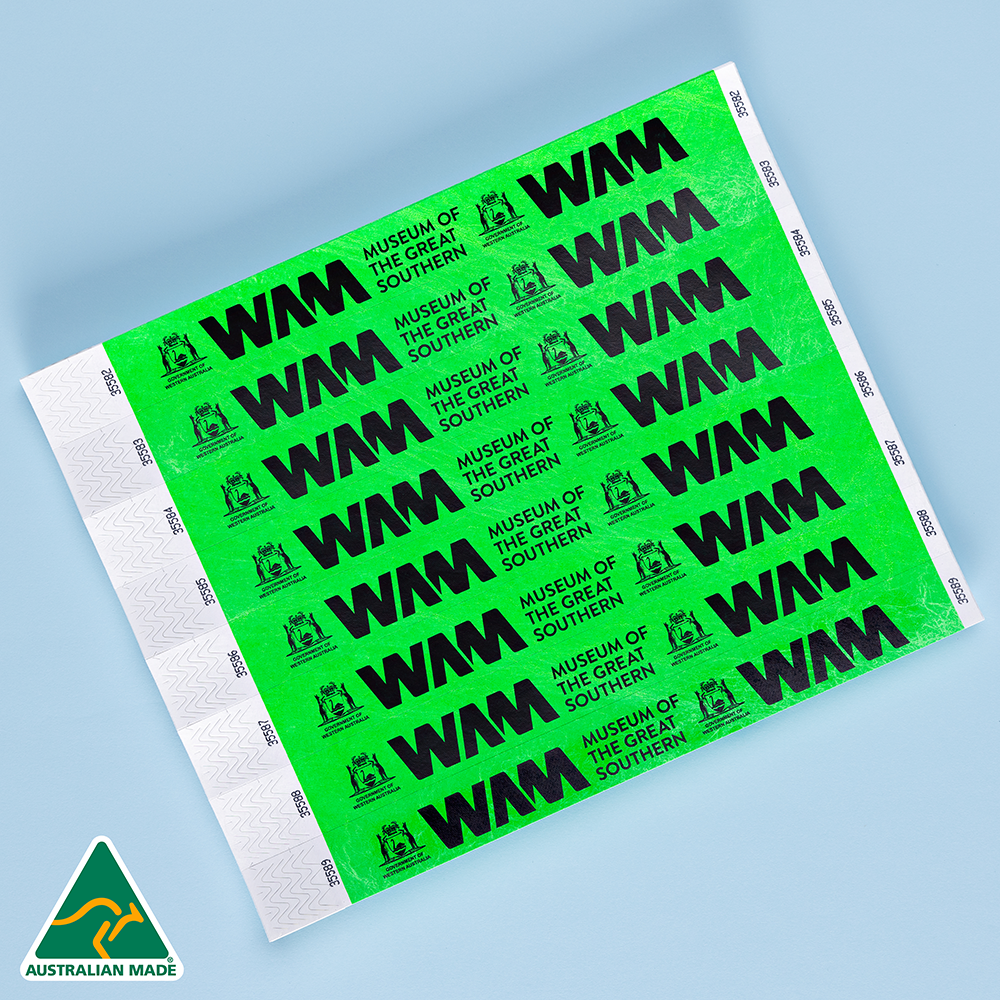 Tyvek wristbands are a popular choice for events that require a durable and affordable option. Made from a material that is tear-resistant and waterproof, Tyvek wristbands are designed to withstand extended wear and exposure to the elements.
They come in various forms, from plain coloured wristbands to customised wristbands with unique designs, logos, or text to match the theme or branding of the event. Tyvek wristbands are also tamper-proof, meaning they cannot be removed or transferred once the wearer has put them on, making them a secure option for admission control.
The durability, customisation options and tamper-proof element of Tyvek wristbands make them perfect for outdoor festivals, children's events and sports activities. If you need wristbands for crowd control, monitoring attendees and security or VIP access, then Tyvek wristbands might be the right material for you. Tyvek wristbands are used most effectively for short-term events, from several hours to multi-day music festivals.
Silicone
Silicone wristbands are a popular choice for their durability and versatility. They are made from a flexible and waterproof material that can withstand wear and tear, making them ideal for long-term use.
You might be most familiar with silicone wristbands used for charities and fundraising, with different colour silicone wristbands becoming often synonymous with specific causes. For example, yellow silicone wristbands were first used for the LiveStrong charity and powder pink wristbands for Breast Cancer Awareness.
Silicone wristbands can be customised with various colours, designs, and messages, making them a great option for events and fundraisers. Additionally, they are hypoallergenic and easy to clean, making them a safe and practical choice for medical purposes. In addition, from an environmental standpoint, these are very eco-friendly as they can be reused time and time again. If you require silicone wristbands, please get in touch – we would love to help!
Fabric Wristbands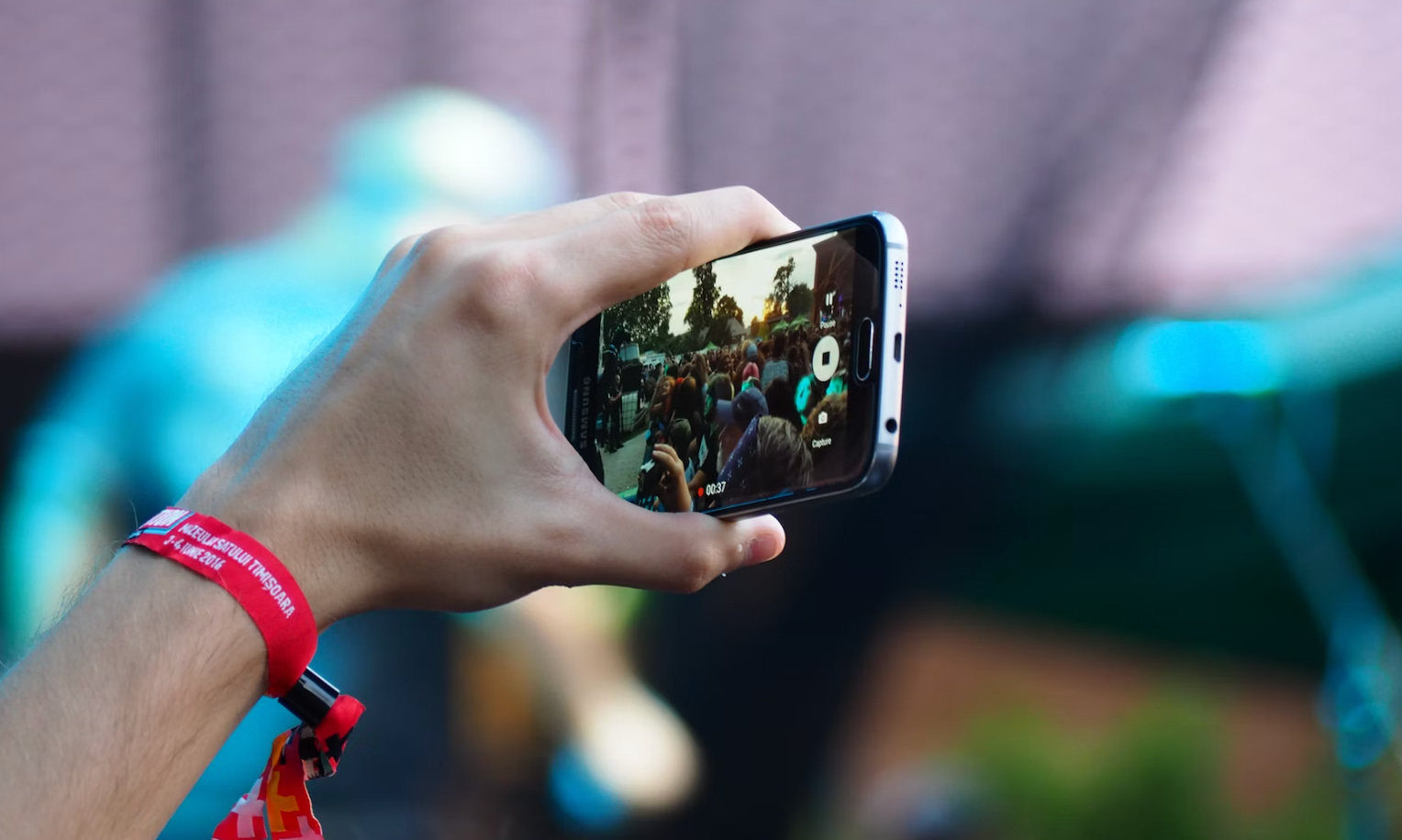 Woven fabric wristbands are a popular choice for events that require a comfortable and customisable option. They are made from a soft, breathable material that is gentle on the skin, making them a great choice for extended wear. Your branding and logos are woven into the fabric of the wristbands, and you have an unlimited number of colour options to match your event requirements.
Fabric wristbands have become a fashion accessory for many industries and events. They come in various colours and patterns, making them versatile for any occasion. As a result, well-designed fabric wristbands are often worn long after the doors have closed, making them an effective marketing tool.
Finally, the fabric wristbands are secured into place with either a bamboo lock that allows them to be reused or a plastic 8-tooth lock that makes the fabric wristbands tamper-proof and prevents them from being removed or reworn. If you require woven fabric wristbands, please get in touch – we would love to help!
Photo Finish Wristbands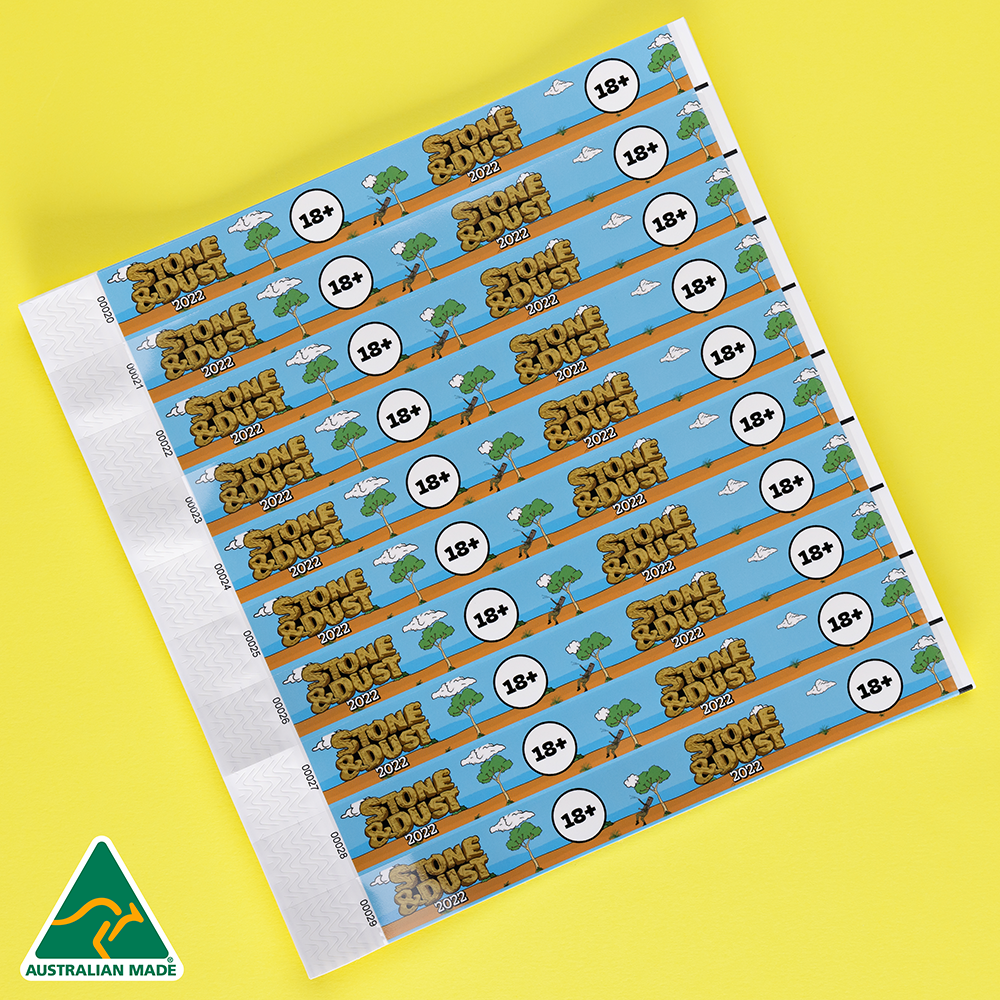 Photofinish wristbands are exactly what they sound like, wristbands with a professional photo finish. Differing from Tyvek wristbands in that the print finish is higher quality and crisper, and clearer. These wristbands also have a coating on them making them look glossy and shiny! Digitally printed, the glossy laminate wristbands are optimised to maximise your colour choices with the highest quality contrasts and clarity. The high-gloss finish gives the wristbands a shiny finish and adds to their rigidity, allowing them to be worn for up to 5 days.
Glossy laminate wristbands are a great option for events that require a high level of security. They are made from a durable and waterproof material that cannot be easily tampered with or removed. You can print on the entire wristband with custom colours, logos and fonts. Plus, these photo-finish wristbands can also be printed with variable data printing to include barcodes, QR codes, names or number sequences to ensure that each guest has a unique identifier.
Finally, if you are looking for all the above options, but want to maintain as sustainable product as possible, then you can upgrade your photo finish wristbands to litter-free photo-finish wristbands, meaning that the adhesive tab will not fall to the ground when the wristbands are applied.
Wristband materials, compared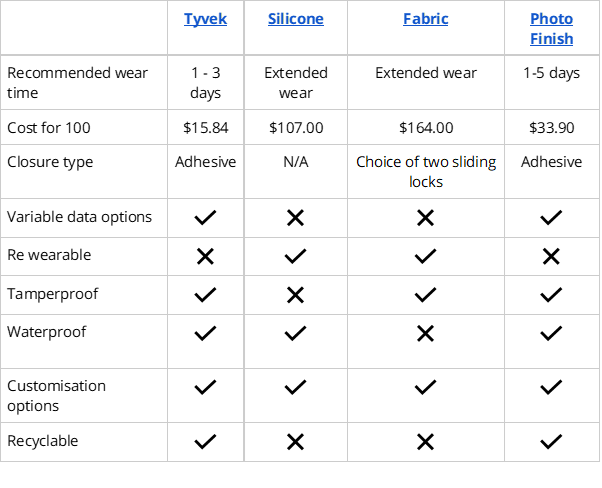 Making the right choice
When choosing a wristband material, it's essential to consider the intended use and specific requirements. In addition, as we've outlined, different wristband materials have pros and cons, so it's important to compare them and prioritise your needs.
For example, consider a silicone wristband if you want to be able to reuse your wristbands time and time again. If affordability is important, a Tyvek wristband may be a better choice. If sustainability is important for you and your event, then litter-free photo finish wristbands might be the right choice, especially if high-quality branding or unique identifiers for your wristbands wearers is essential.
Customisation options and security features should also be taken into account. By weighing these factors, you can make an informed decision and choose the right wristband for your needs.
And as always, The Wristband Co. team are on hand to help you make the right decision for you and your situation. You can always reach us by calling 08 8363 4850 or by sending us a message.
Ways we can help
At The Wristband Co., we regularly work with organisations of all sizes. We are happy to assist in any way we can, including helping you find the right wristbands for your event or business. Get in touch with us today on 08 8363 4850 or email us at [email protected] for more information.
You can find out more about our company here.
Meet the Author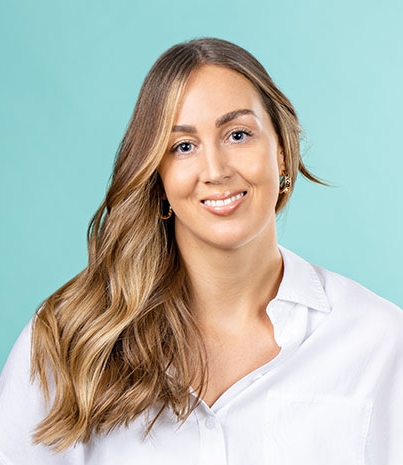 Laura Sayer, Co-Founder
Connect with Laura on LinkedIn
With a strong marketing background, Laura is driven to provide sustainable solutions that enhance event and business organisation while also elevating security measures. Her passion for exceptional customer service has been the catalyst for The Wristband Co.'s growth. Under her guidance, the company has established a reputation for delivering high-quality wristbands that are affordable and environmentally conscious.