Level up your wristbands
Our wristbands are perfect for increasing security at your events, but that's not all they can do! Did you know that we can print individual QR and barcodes onto our custom printed wristbands, opening up a world of possibilities for you and your organisation?
Adding barcodes or QR codes to your Tyvek wristbands provides you with additional options, including keeping track of attendance numbers and driving traffic to your social media pages.
But which kind of code would you need? Here we'll take a look at the various codes available and the differences between them – by the end of this blog; you will have a great understanding of QR coded wristbands and Barcoded wristbands!
Barcodes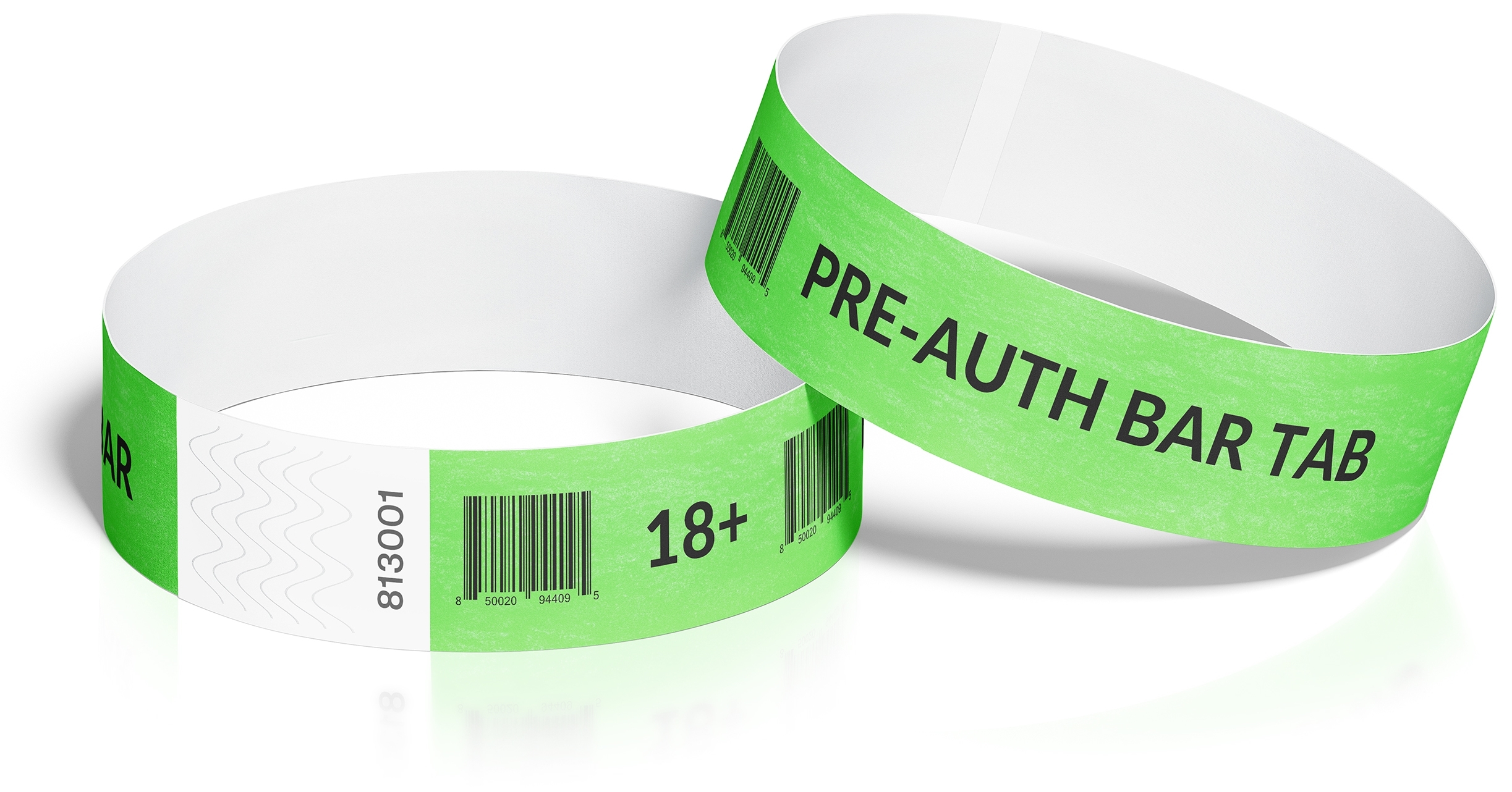 We're all familiar with barcodes, you scan the line of black and white stripes on an item or product, and you'll be given details about it. Barcodes are primarily used in shops and warehouses to provide product information and keep digital inventories, but they can also be put to other uses.
If you add a barcode to a wristband, it can:
► Add extra security to an event, allowing each person's Tyvek wristband to become their individual, non-transferable ticket.
► Give you a digital record of attendance numbers.
► Keep a record of customer/patients information. Barcoded wristbands are a great help in the medical profession. When scanned, they can pull up a patient's information, reducing the risk of miscommunication and error and improving patient care.
► Barcoded wristbands can also be used for managing drinks tabs in cashless, busy venues. With one scan of the wristband, the barcode can bring up the customer's account, allowing them to order drinks throughout the night and settle their tab at the end. Having a pre-authorised bar tab is likely to increase customer spending, as it allows customers to feel more relaxed and improves their overall experience at your venue.
QR Codes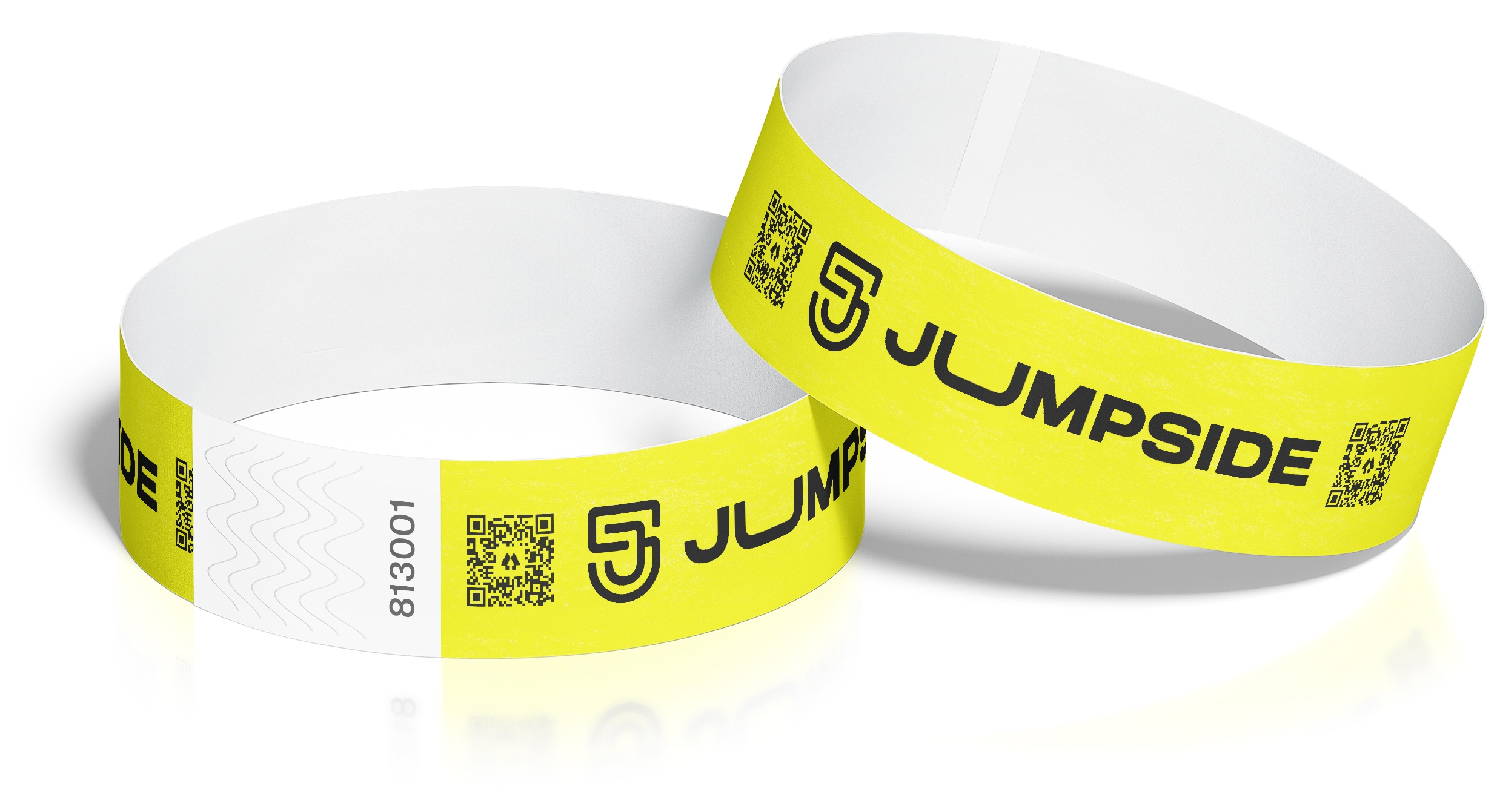 A Quick Response Code or QR code is essentially a more advanced barcode. QR Codes are two-dimensional, allowing them to hold much more information than the one-dimensional barcode. Instead of the strip of vertical stripes and numbers, QR Codes are square and filled with smaller black and white squares and dots, which, when scanned, translate to information.
QR codes can be used like a standard barcode, but they can also do more. For instance, a QR code can contain a link that takes you directly to a website, app or file when scanned. And, since any smartphone camera can scan a QR code, they are an excellent way of getting your information to the public. Since the COVID-19 pandemic has begun, more and more people of every generation are familiar with QR codes and how they work. As a result of this, we have seen a huge increase in wristband orders coming through with QR codes printed onto them as businesses adapt and become more tech-savvy.
QR codes printed onto your custom wristbands can be used to:
► Direct people to your website, social media channels or review pages.
► Give your customers access to discounts, promotions or competitions.
► Offer shortcuts to product pages, apps, games, and ticketing sites.
► Provide aftercare – such as directing customers to instructional videos or warranty sites for a product they just purchased.
► Go contactless – many bars and restaurants now have QR codes on the tables that link to an online menu, removing the need for paper menus and reducing both waste and cost.
► Track and collect information that allows you to judge the success of your marketing.
So QR Code vs Barcode?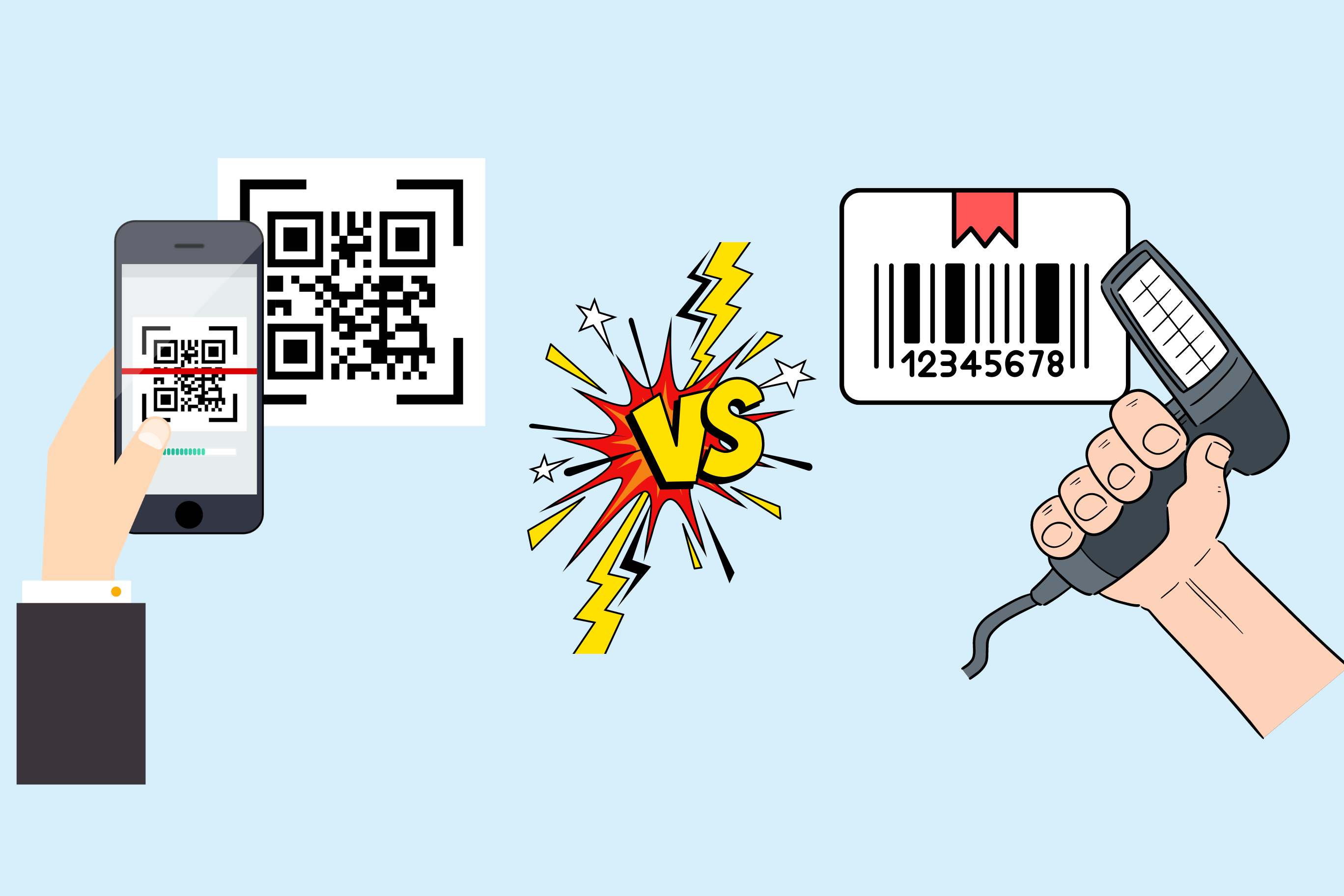 It depends on what you want your code to do. If you're looking for a way to hold digital inventory or store information, a barcode will do the job. But if you want the code to offer a more interactive experience, to use it as a part of a marketing strategy or customer service plan, we would suggest QR Codes.
It's also worth noting that QR Codes have built-in error correction so that they will still scan even if the code on the wristbands is up to 30% damaged. This is not the case with barcodes which can stop working if they become damaged or dirty.
Not that you need to worry about that – any code we print on our durable custom printed Tyvek wristbands will scan just as well after three days as on the first!
What about Data Matrix vs QR Codes?
Think of Data Matrix Codes as a step between the other two since they can hold more information than a standard barcode but less than a QR code.
A DM code is a 2D code with a square design similar to the QR code. It can be used as a standard barcode or, like the QR code, as a link to sites and files. However, unlike QR codes, not all smartphone cameras have the built-in ability to read DM codes. So you may need to download a code reader app to scan it. This is not ideal if your code is intended for customers rather than staff.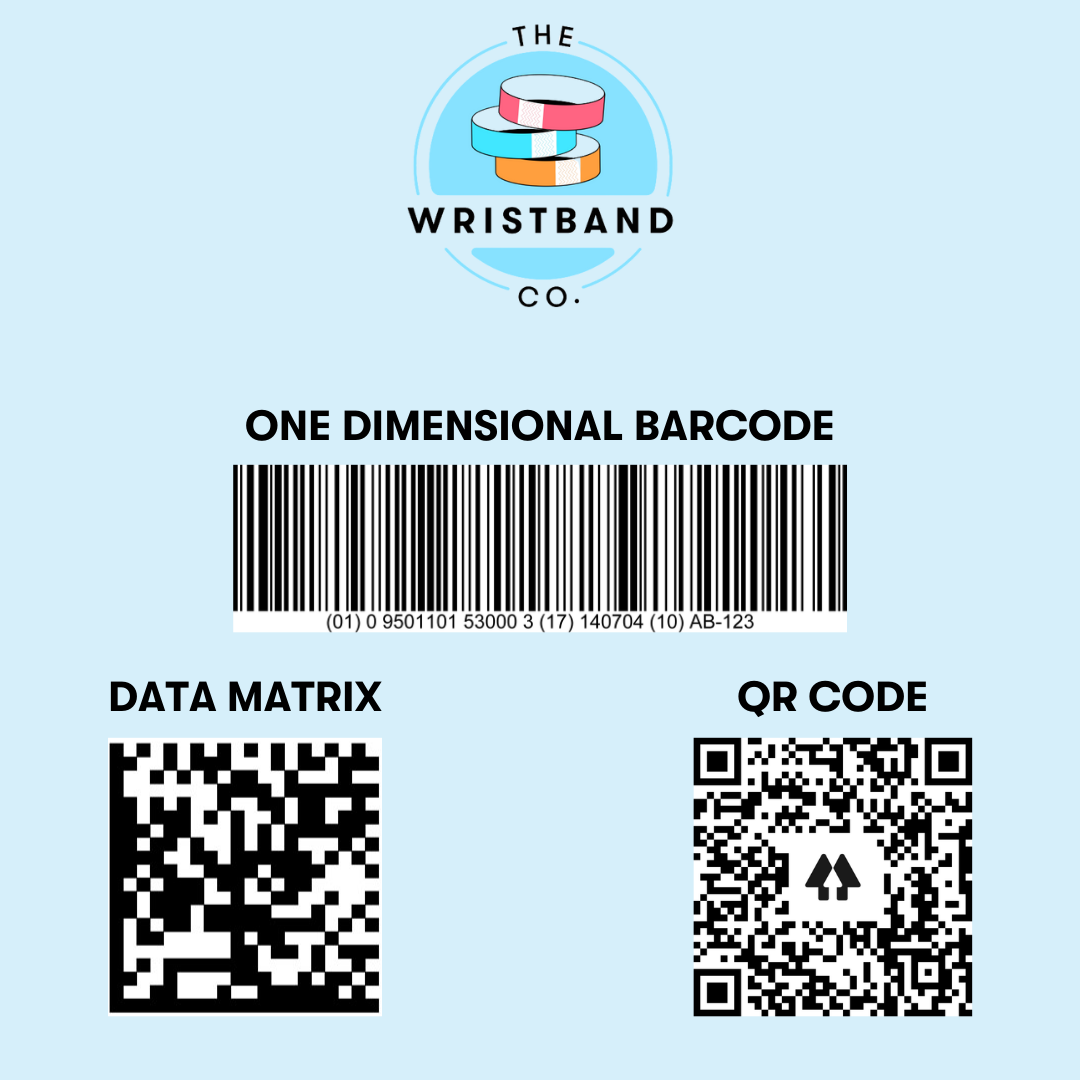 Dynamic vs static QR code
Static QR codes contain fixed information which cannot be changed once the code is printed, whereas Dynamic QR codes can be continually changed after creation. This allows you to fix mistakes, update your information, or change the nature of the task you want the code to perform without creating or printing a new code. This can save you time, cost and worry, especially if you are ordering wristbands in bulk.
The other reason to choose Dynamic QR codes over Static ones is that they collect tracking data such as where, when and how often a code has been scanned and by what sort of device. This information can be extremely useful in measuring the success of your marketing campaign or product reach.
So which one do I need?
It all comes down to what you want the codes to do. If you want a way of storing information, keeping track of inventory, or adding security to an event, then barcodes will do the job perfectly.
But if you want to use the codes to get information to your customers or generate client engagement, you should look into QR Codes.
How do I order them?
Once you've decided on QR code vs Barcode, you need to order them, and it couldn't be simpler with The Wristband Co.
If you want the same QR or Barcode on all your wristbands, you can upload the QR code easily using our custom wristband designer. The code is treated as an image, so you won't be charged anymore, and you can also add text alongside the codes! If you have trouble doing this or would like us to create a design for you, send us a message, and we would be happy to help!
If you want each wristband to have a unique code, you'll need our variable data printing service. Because we will need your unique information and code, the best way to order is to get in touch to let us know your requirements. We cannot wait to hear from you…
Meet the Author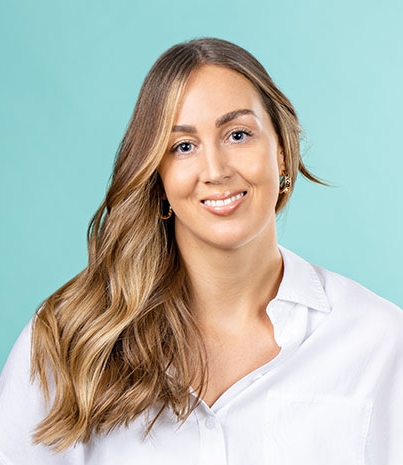 Laura Sayer – Marketing Specialist at The Wristband Co.