Written by Founder, Laura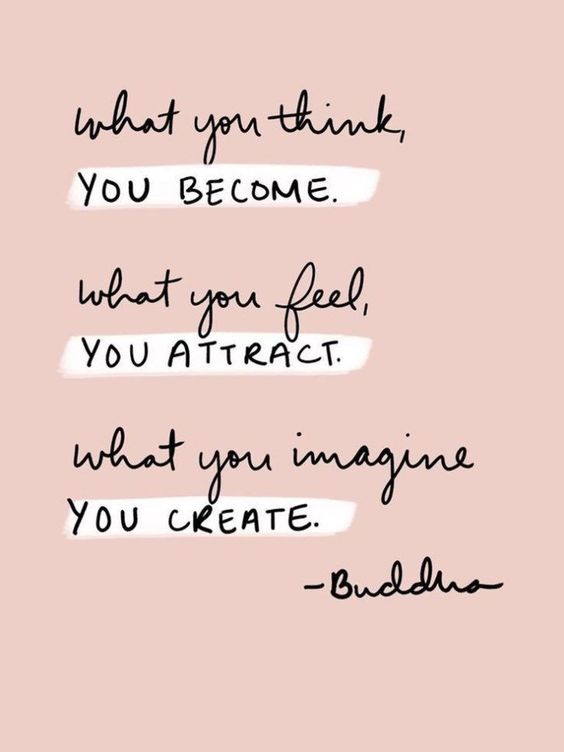 We received such great feedback from our first ever blog, with many of you saying how much you enjoyed hearing about our business start-up journey! So, we thought for our second blog, we would expand on this and give more insight into the lead up to the launch of The Wristband Co.
So, let's jump straight in!
As you know from our first blog, we created our logo through 99 designs and decided on our name "The Wristband Co." whilst working on a cattle station in outback Australia, but what followed in the months leading up to the launch of the business, were many calls back and forth with our website developer, product photography sessions and hours spent perfecting our office space!
THE WEBSITE
Designing our first website and seeing our ideas come to life was really exciting! The most challenging element to this process was building our custom wristband designer that you can find on our homepage, now, I'm no expert, but the time and effort that went into coding and testing the wristband designer was A LOT! When you design a custom wristband and place your order, that design comes through to us and is sent straight to our printers, and voila… your wristband is printed, packed, and dispatched. Shout out to Anastasia at Holbi for making the process of designing our website not only a smooth one but also an enjoyable one too!
Check out the difference between how our first website and our new website (launched earlier this year) looks when shopping on your phone… which one do you prefer?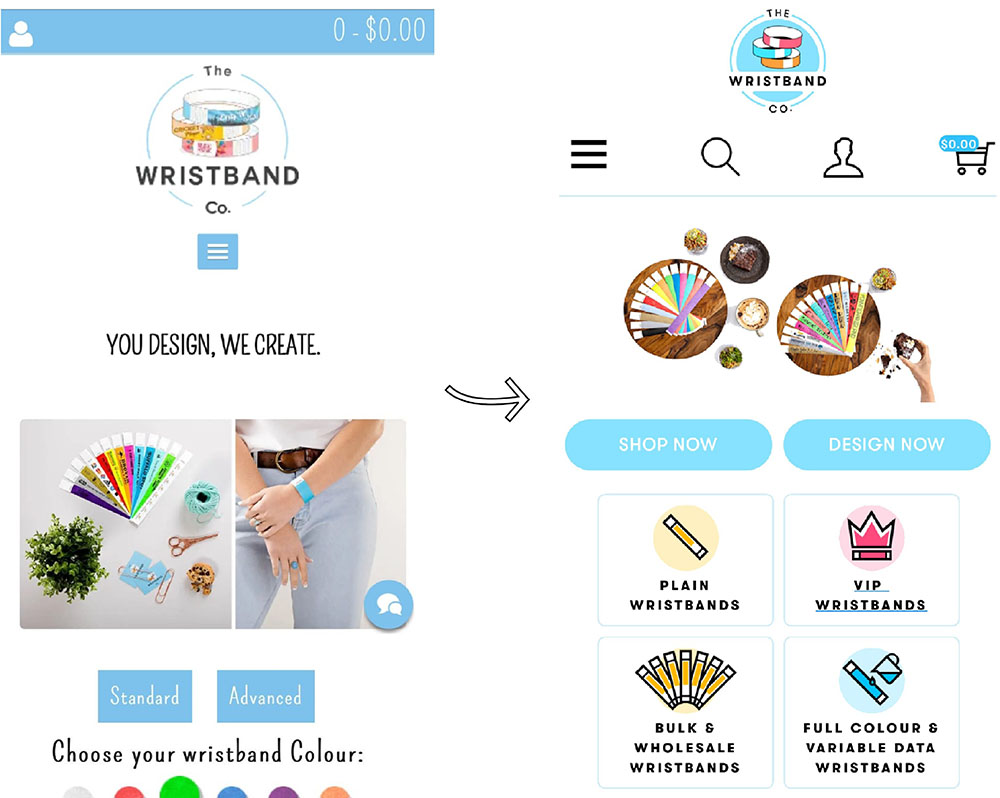 THE PHOTOS
We knew from the moment we designed our website that we needed high-quality images to match, when we found local Adelaide based business, Sweet Lime Photography, we knew we were in safe hands! Run by Dan (Photographer) and Belinda (Style & Assistant) the outcome of our images have always surpassed our expectations! We have worked with them twice now and we absolutely love the styled shots they have taken of both our plain wristbands and custom printed wristbands.
Check out the image below of Dan performing a serious balancing act to get that perfect shot, working with Tyvek wristbands is no mean feat!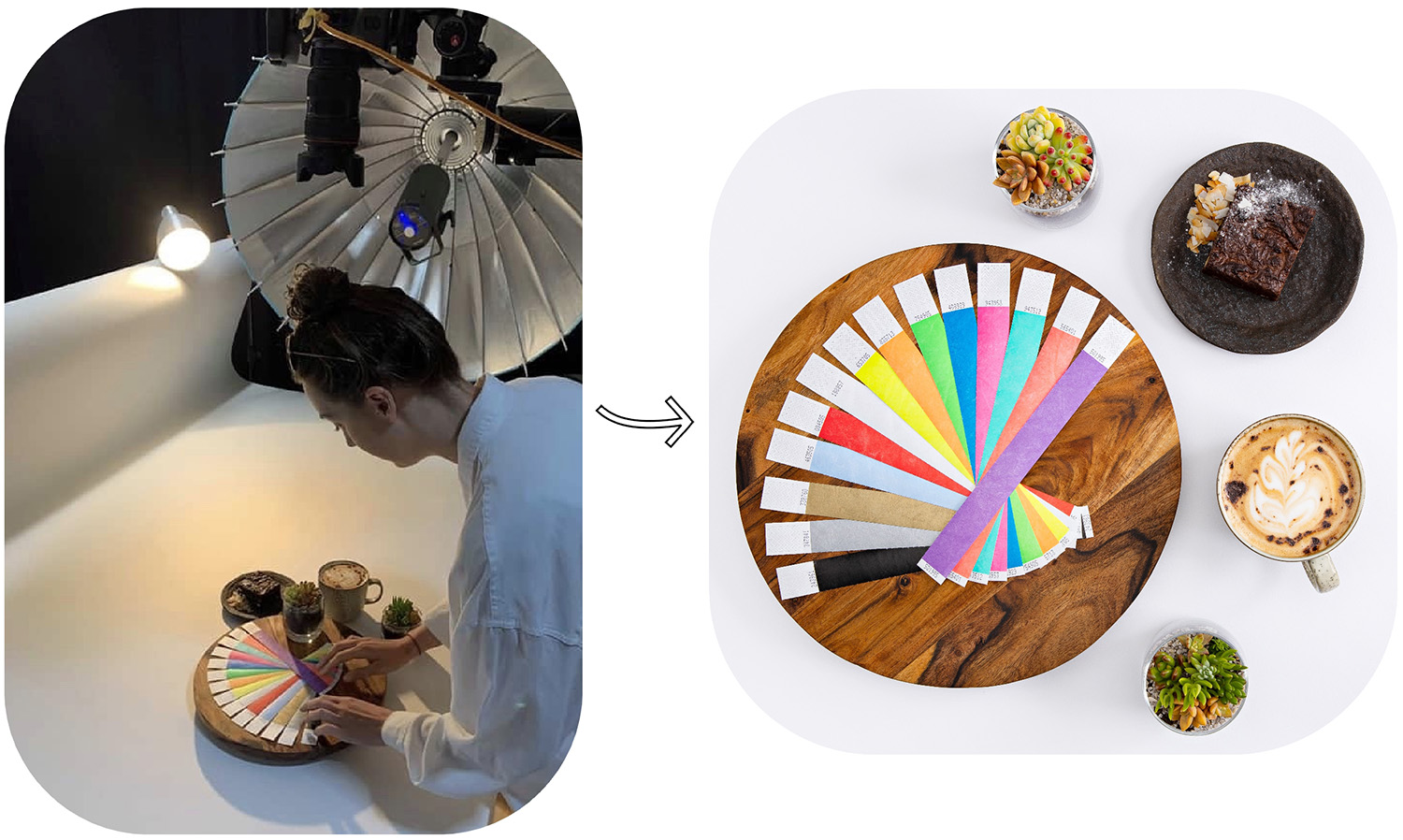 THE OFFICE
We wanted our office space to be both practical and enjoyable to be in, after all, it's where we spend the majority of our time printing wristbands for events! We really love working with small business owners and when we found Alex who was in the process of setting up Screw It Woodwork, we instantly loved not only his pieces but also his friendliness and can-do attitude! All of our office pieces have been hand-made by Alex, we especially love our stand-up desk, packing bench and custom collection box pictured below…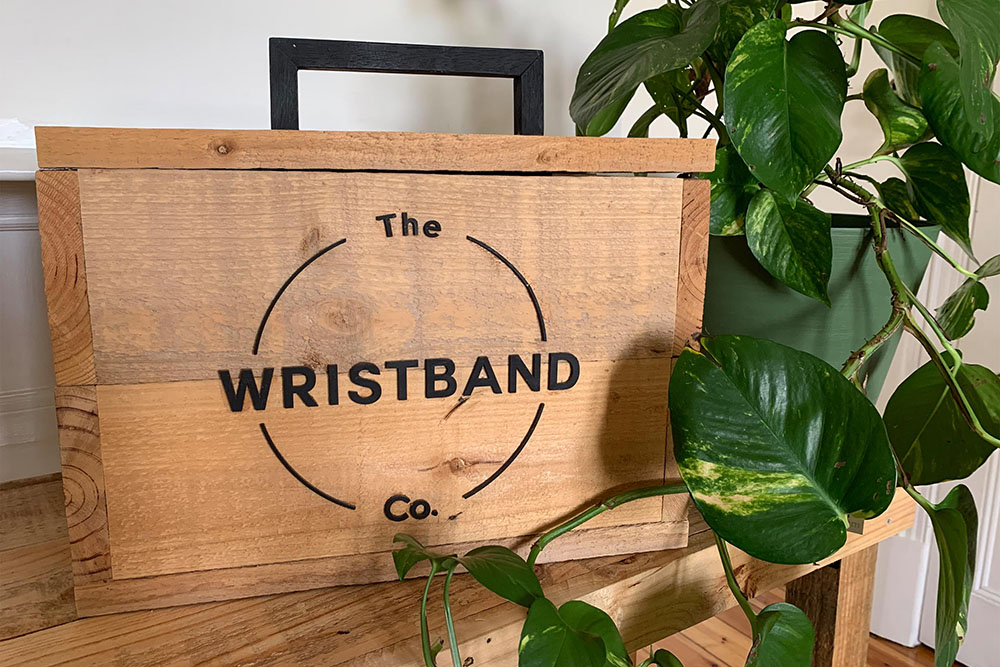 We also LOVE our office plants, we always choose air purifiers and currently, we have a snake plant, Devils Ivy and a Peace Lily. In case you didn't know, there are many benefits to having plants in your working area:
► Plants reduce stress and blood pressure
► They help drive productivity
► Plants improve indoor air quality
► They help you take care of the environment
► Plants add colour and texture to any office space
► They drive improved creative thought processes
Read more about why you should have plants in your working area here!
So, if you haven't already, head out to your local garden centre today and pick yourself up an office plant… let us know which one you choose!
We hope you have enjoyed our second blog post, if you have any questions, comments or suggestions regarding our custom event wristbands, or future blog posts, head to our contact us page here and get in touch

We cannot wait to share more with you!