Using custom wristbands is a highly effective way to not only manage your event but also to promote it and build up the visibility of your brand. Wristbands are comfortable to wear, affordable to purchase in bulk, and they are highly visible on the wrists of your attendees during large gatherings or large-scale events.
It can be daunting to design your custom wristbands and know what information needs to be included on them and where your logos should be positioned. So we have created this simple guide for you to follow, explaining how to design the perfect wristbands for your business needs or upcoming event!
The key steps we have covered will help you to design wristbands for day-to-day operations – in hospitals, trampoline parks and schools or universities, for example. However, if you are planning a special event – a Christmas party or New Years' extravaganza this guide is also for you.
Following these tips for designing wristbands, you can successfully turn your ideas into reality and create something unique like the below design, created by us.. let's get started!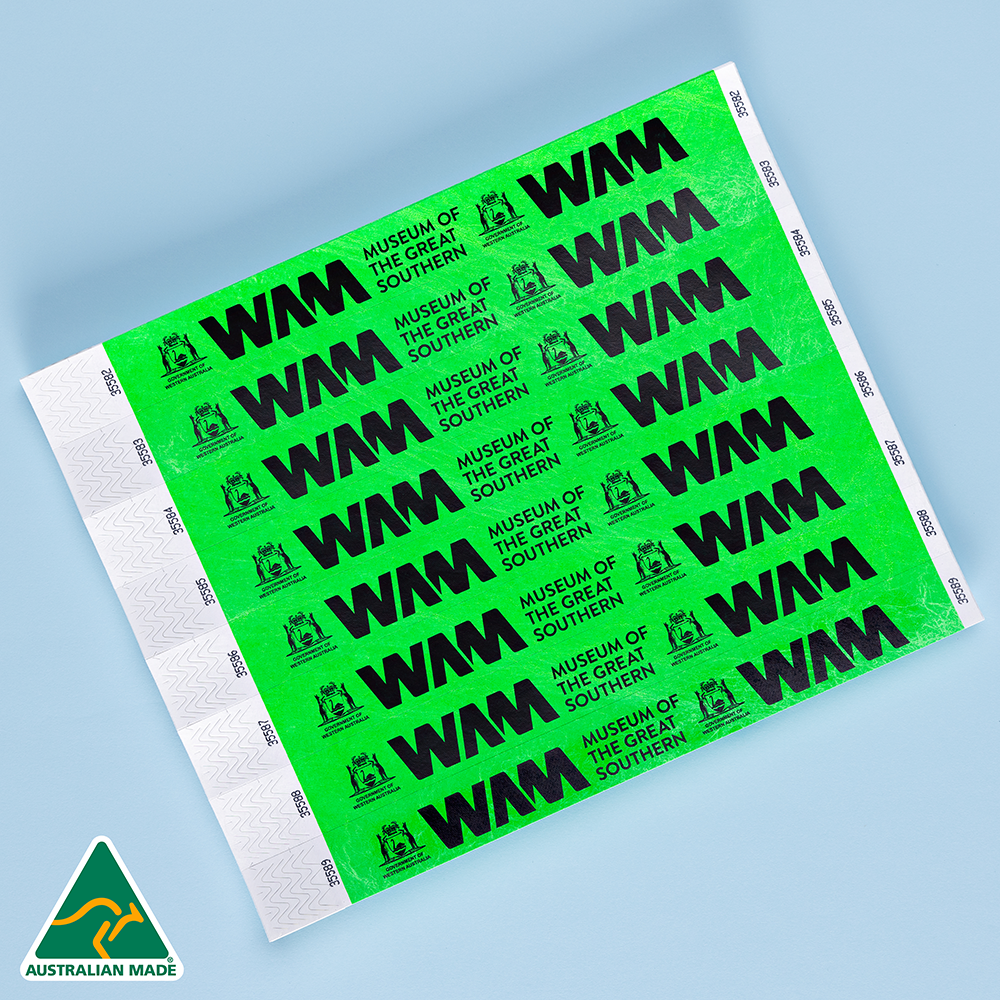 Important elements to consider
The key message
Before custom designing wristbands for your business, you first need to get clear on your key message. So what core message(s) do your wristband wearers need to be aware of?
This key message is the driving force for your other design elements: wristband colours, printing colours, fonts, logos and more. For example, suppose the wristband wearers at your trampoline park must be clearly identifiable to your staff as party guests, under 5's or a part of the morning time slot. In that case, this information in a small font may not be communicated to your team. However, having clear different colour choices between memberships, e.g. neon pink and neon yellow, makes this difference instantly distinguishable for your staff.
Check out the below design we created for a local swimming centre – the message is bold and clear; the wearer of these wristbands needs to be kept in eyesight.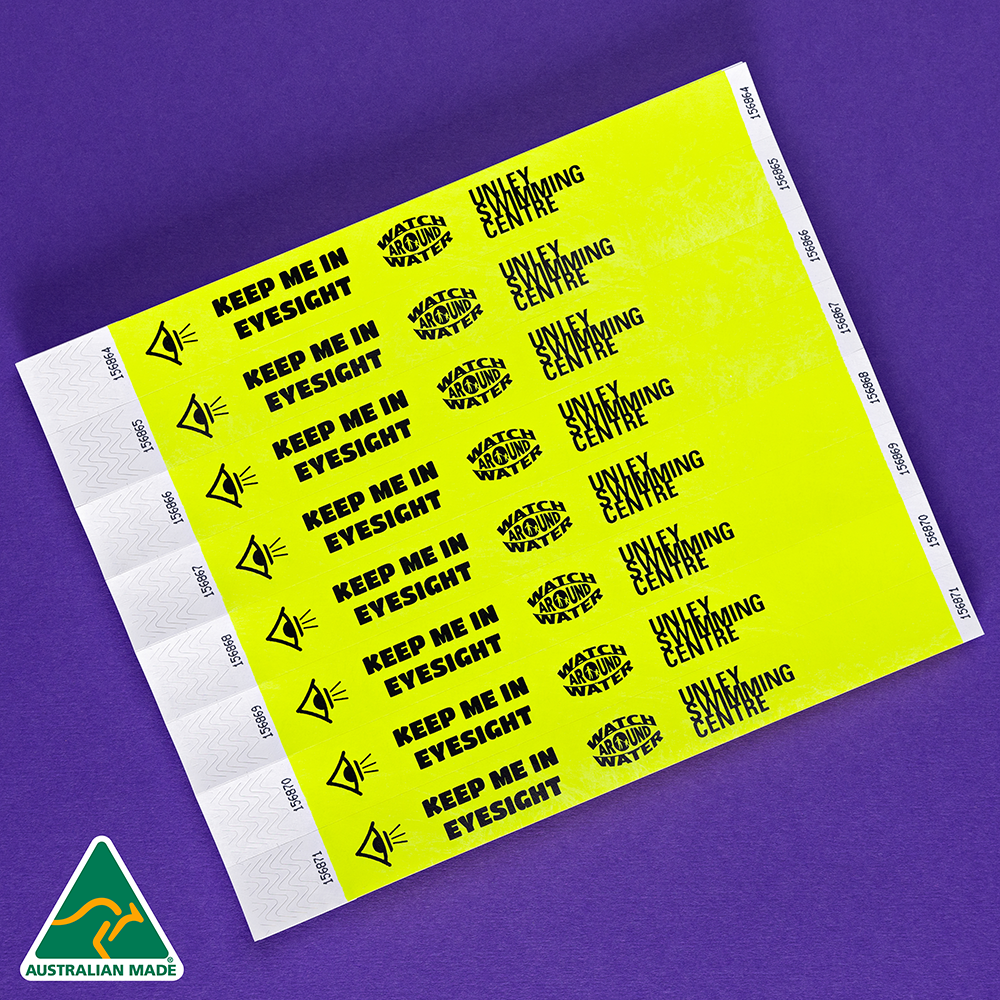 Visit our custom wristband designer here.
Simplicity is key
Now you've discovered your key message, the next thing to remember is that simplicity is key. If, for example, you are managing bars and restaurants with under 18's in attendance, you might want to make it immediately clear to your bar team that these adolescents cannot order alcohol. Whilst your wristbands might look fantastic if you layer logos, text, and various colours. Your key message might likely get lost. Which then negates the purpose of the wristbands. For this reason, we recommend keeping your design clear and simple; check out these under 18 and over 18 custom wristbands for inspiration (also pictured below!).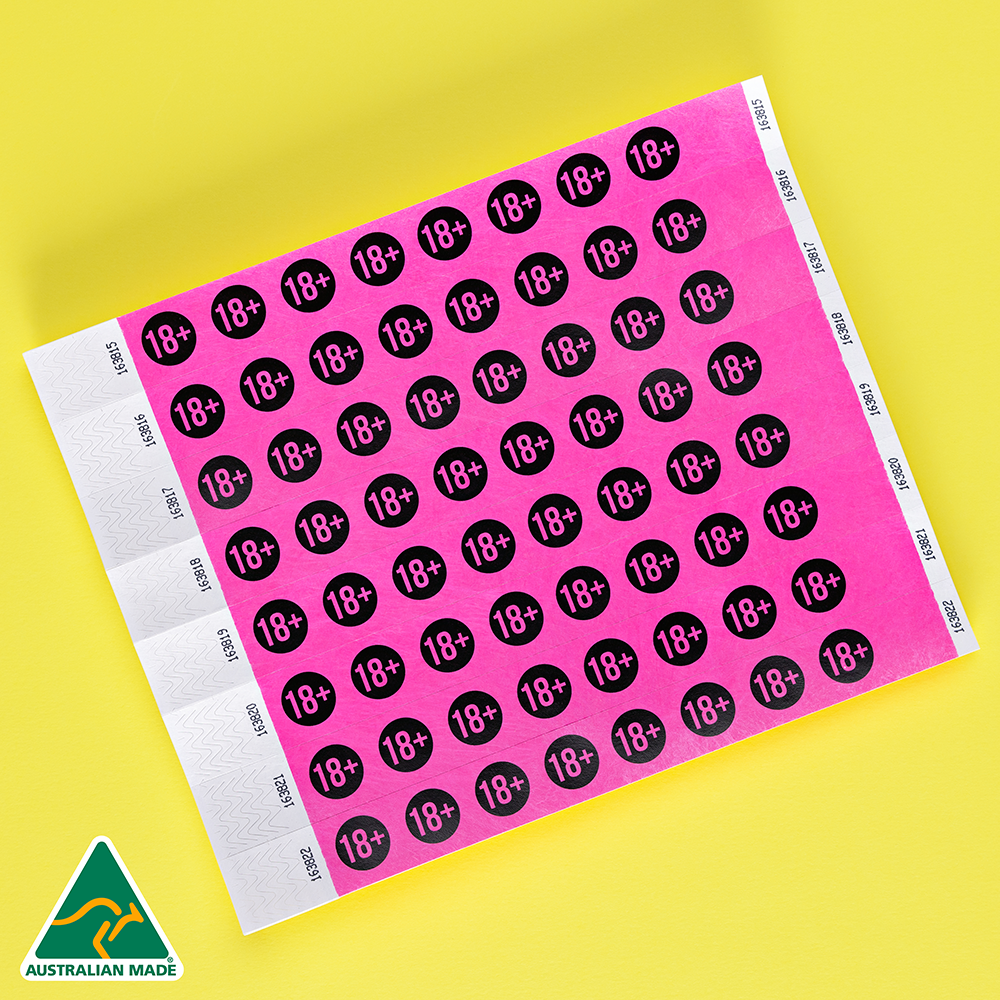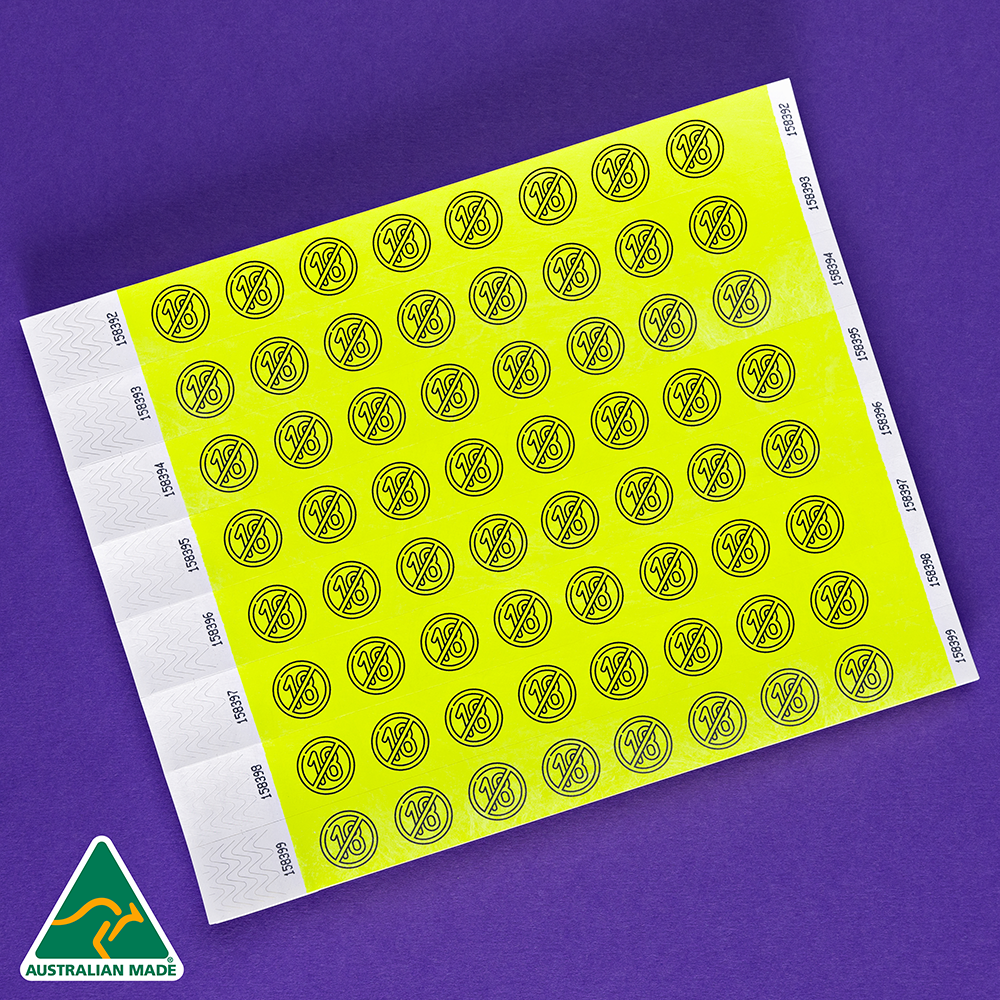 Aim for larger, thicker fonts
One of your key messages to include on your custom-designed wristbands might be a written direction for your wristband wearers. For example, a hashtag you want them to use in their Instagram uploads or opening times of specific sections of your business. Our top tip for designing wristbands with writing on them is to use thicker, larger fonts. Making your words clear and legible helps promote awareness and brand visibility.
If you're designing wristbands using our custom printed wristband designer, choose fonts such as; Anton, Bungee, Coda Captain and Paytone One.
Unless you're holding a small and intimate event such as a birthday or wedding celebration, The Wristband Co. also recommends you avoid thin, cursive lettering, as in larger groups; the narrower lines can get lost and are not very visible from a long distance. If you're wanting a narrow font for a smaller event, you can choose fonts such as; Berkshire Swash and Pacifico – both available through our wristband designer.
Image quality guidelines
This section includes some guidelines for using images to ensure the best quality print finish. Firstly, your image type – as a general rule, the larger your print file, the better quality your wristbands are going to be. This is because we can resize the image for you, and ensure that the quality isn't lost. In order to send us your logo or images, please email them to [email protected]. PDF's, PNG's, PS or AI files are preferable!
If you are using our wristband designer, we recommend using either PNG or JPEG images – it's best if you can remove any white space from around your logo – i.e from the top, bottom and sides of your image, or else, this will make your logo appear very small when you upload it to our designer. See the image below for reference to this white space. We also suggest your image be at least 1.5 MB in size, to ensure the highest quality (no larger than 2 MB).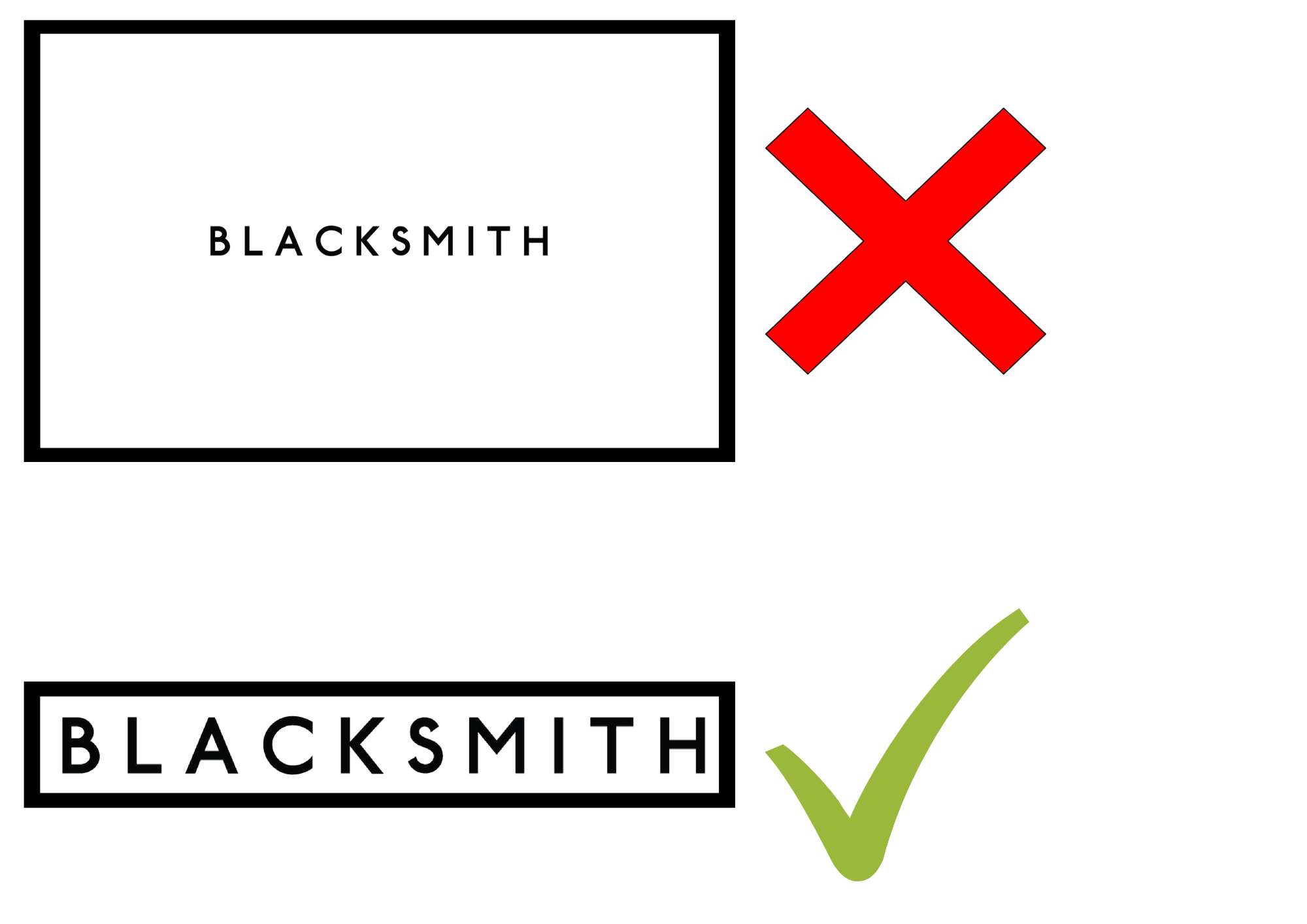 Using your own images and logos when creating your wristbands helps increase brand awareness and will ensure your finished product looks professional and in keeping with your company branding.
If you are choosing to design your own wristbands with our designer, please do not forget we are always on hand to ensure they look exactly how you want them to – you can always reach us via phone 08 8363 4850, via our live chat service or by sending an email to us; [email protected]. Don't forget, if you would prefer us to design your wristbands for you – get in touch; this is something we love to do (and we're great at it!).
Placement
When thinking about placement, the most important aspect to remember is that you want your most important message and image/logo, to be printed to the left of the wristband (next to the white adhesive strip). This is because, when the wristbands are worn, you will mainly see what is to the left of the wristband. Anything printed to the far right risks being cut off when worn.
If you're using our custom-printed wristband designer, you will see that your text and images automatically default to the left of the wristband. You can also preview how your wristband will look when printed, which will show you the "cut off" point, clearly showing that anything printed beyond the red line will not be visible.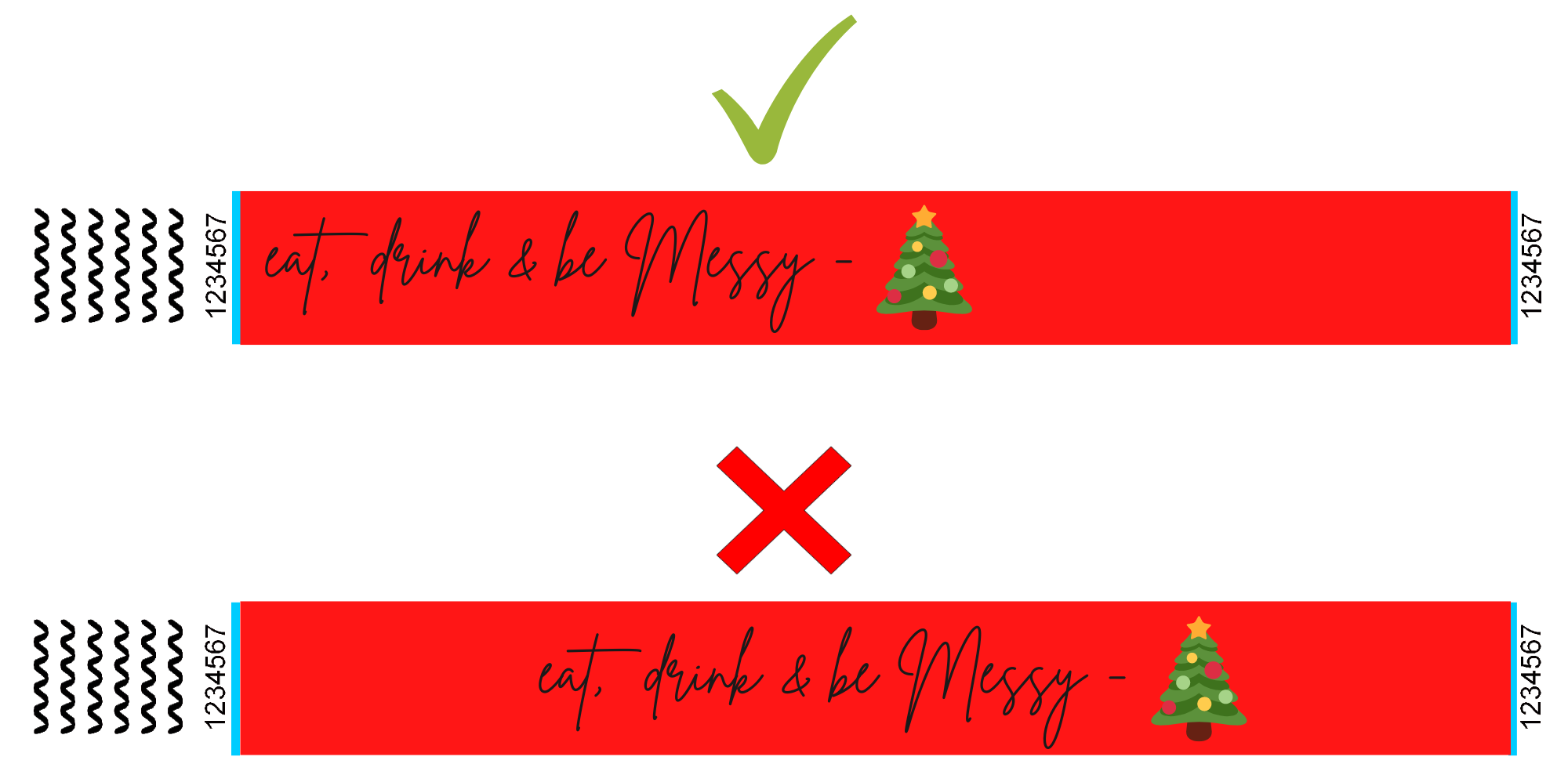 Keep it environmentally friendly
The sustainability of daily operations and specific events is becoming more and more important to employees, attendees and event participants. But have you ever considered what happens to your wristbands after their use?
At The Wristband Co., our 25mm Tyvek Wristbands are 100% recyclable. We encourage you to pass this message on to your wristband wearers. It could be one of the key messages on your wristband.
Tyvek needs to be recycled correctly, so look at our recent blog on five ways you can recycle your Tyvek wristbands.
Getting the colour right
When designing wristbands, remember that the primary colour, or combination of colours used, will be one of the first things both the wearer and other observers will notice. Therefore carefully considering the colour choices of your wristband is an important decision.
If your company has a clear brand personality, it might be straightforward to use these brand guidelines to create complimentary wristbands. If you are hosting an event, the event might have a clear brand pallet that you can use. For example, if your company's branding is all Red, we would suggest opting for our red custom printed wristbands (also pictured below)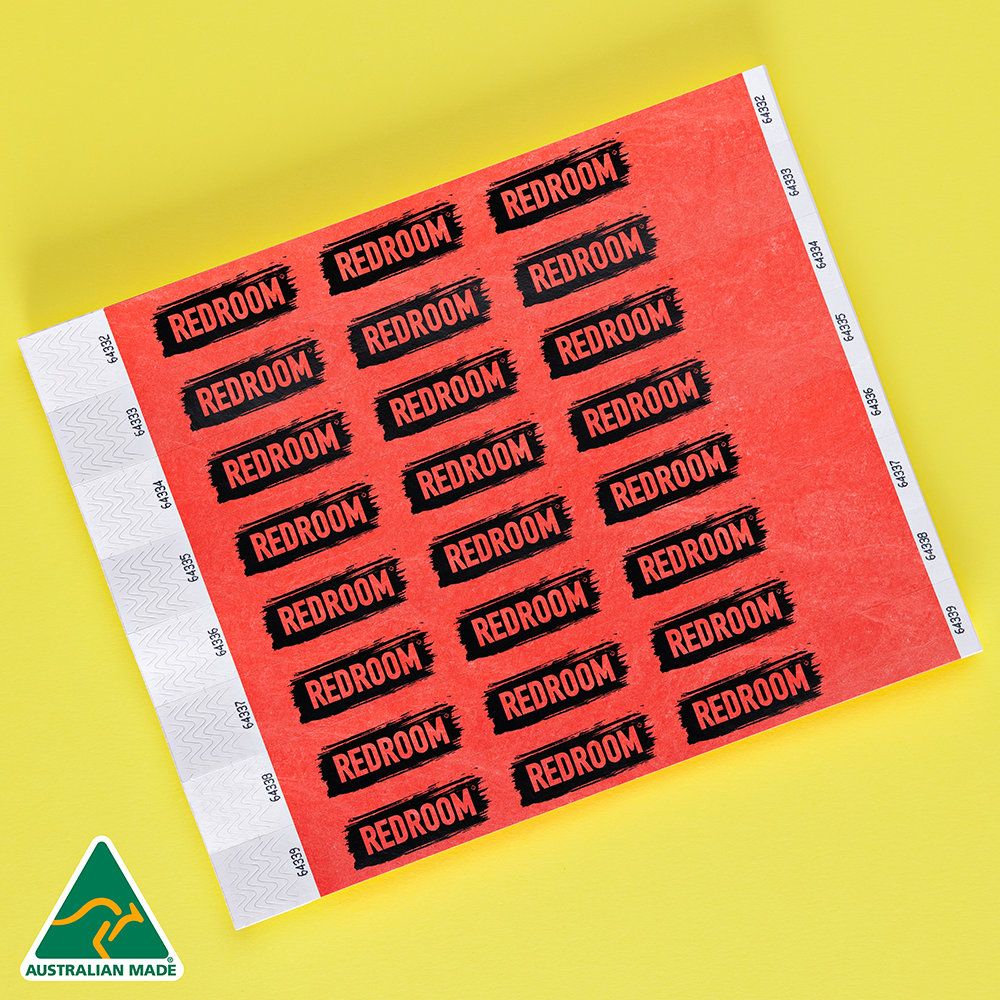 If you are creating something new with original colour combinations, consider how those colours complement one another. For example, pink text might not be as legible on a red background as white. We always recommend bold black print – especially for simple wristband designs where your message is very important (think distinguishing age groups or time slots within your venue); this is because bold black print shows up the best on all colour wristbands and also is readable from a distance. Our wristband designer's default text colour is black; however, if you would like another colour, please contact us by calling 08 8363 4850 or by emailing us [email protected], we are always happy to help and make recommendations on colour based on your requirements.
Also, consider that colours on a computer screen can appear differently in reality. So if you have clear, specific colour hues to be used, you can provide those colour codes to The Wristband Co. so that we can match them perfectly. Either HEX or RGB colour codes are best.
What features do you need?
The first step here was to consider your key message. For example, if one of your core features is a specific call to action for the wearer, it might be valuable to include a link to further information – either for the wearer or your staff.
For example, you can easily include a QR code or scannable barcode on a custom-designed wristband. These QR codes could drive the wristband wearer to a specific page on your website (like a signup page or offer page) or event timetable. A scannable barcode could help you manage large crowds of attendees where you are selling alcohol, for example, each wearers barcode links to their bar tab, which they can settle at the end of the night or better yet, pre-pay for ahead of the event.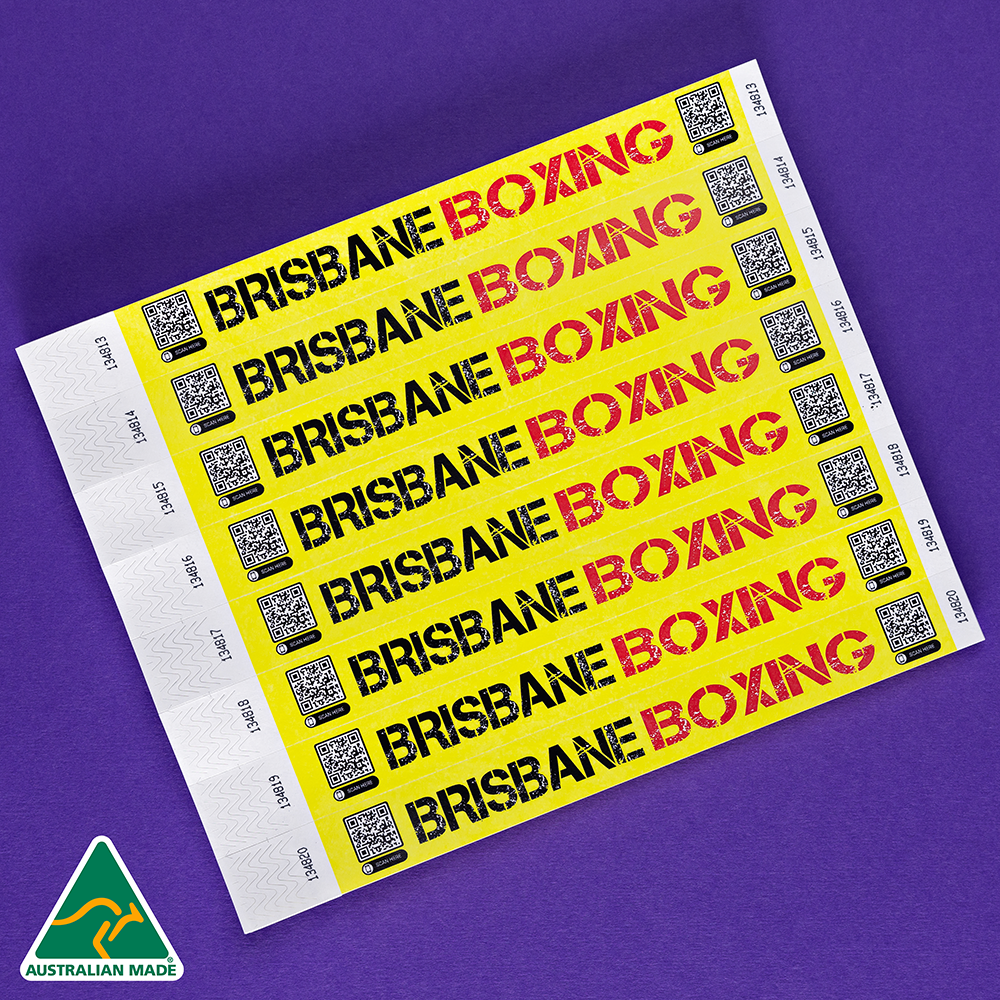 What to look for in a wristband provider
When choosing a provider for your wristbands, it's important to consider some key elements, for example:
– How soon do you need your wristbands?
– Does your company have guidelines on purchasing from Australian suppliers only?
– Do you need help designing your wristbands and access to quick and efficient customer service?
– Is your company looking for a product that is sustainable/recyclable?
– Are you looking for a high-quality product that is going to last the entirety of your event?
Many wristband providers that you can find online are not actually based in Australia (despite claiming to be); this results in you waiting frustratingly for days for answers to your emails due to time differences and many weeks waiting before your wristbands are even dispatched. Worst still, many providers claim to have Australian-made products but will be using dropshipping services from India or China to fulfil your orders, normally resulting in very poor quality wristbands that will not last for the entirety of your event.
When choosing a wristband provider, look for the Australian Made symbol on their product pages (as demonstrated below) – the only way to ensure a provider's products are made within Australia is with this logo, as this means they have undergone rigorous checks from the Australian Made campaign in order to be able to proudly display this logo. Don't be fooled by companies just claiming their products are Australian made with words!
You can also search the Australian Made directory for a company to check they are a Licensee; you can do this here.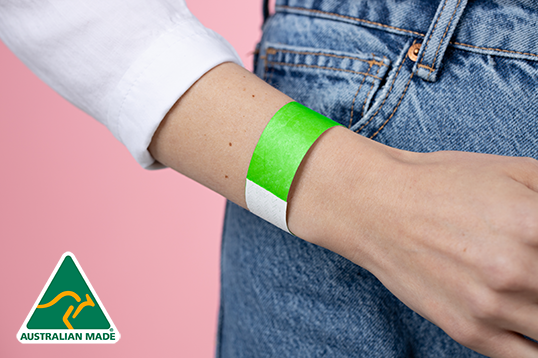 Ensuring an Australian supplier will also mean you can expect faster delivery timeframes. As a general rule, there are three main shipping options within Australia;
1. Standard Post – this is when your products are sent with Australia Post's standard service, this means you can expect to receive your wristbands within 10 business days of placing your order. Some companies charge for this service; however, at The Wristband Co. we offer free standard shipping on all orders.
2. Express Post – this is when your products are sent with Australia Post's Express service or sent with an express courier such as StarTrack. With an express service, you can expect to receive your wristbands within 3 business days of placing your order. Most companies charge for this shipping method, however, the amounts can vary dramatically. The Wristband Co. offers one of Australia's most cost-effect express post shipping options, priced at a flat rate of $9.95 – no matter if you're purchasing 10,000 wristbands or 10.
You can enter the sender postcode and your postcode here to check the delivery timeframes for Australia Post's services throughout Australia.
3. Next-Day Courier Services – this is when your wristbands are sent with a next-day delivery provider such as TNT or StarTrack. With this service, if you're in a metro area, you can expect to receive your wristbands the next business day when you order in the morning. Not all companies offer this shipping option, as it requires the ability to print orders in-house and dispatch within hours of receiving the order. The Wristband Co. offers this service for a flat rate of $19.95 as we print and dispatch all orders the same day from our office in Kent Town, South Australia.
Your stakeholders may also want to know that you are operating as sustainably as possible, which is why if being able to recycle your wristbands is a key decision factor for you, you should look to purchase wristbands that are made from materials that are 100% recyclable. Although Tyvek is expensive to recycle, it is possible to recycle it thanks to companies like TerraCycle. At The Wristband Co., we are partnered with TerraCycle to make recycling your wristbands easier than ever with a reputable and trustworthy company. You can learn more about how to recycle your Tyvek wristbands with us here. Don't let companies tell you Tyvek isn't recyclable – it involves effort and can be expensive to the company, but it is possible! If you're interested, you can read The Wristband Co.'s full sustainability policy here to find out more.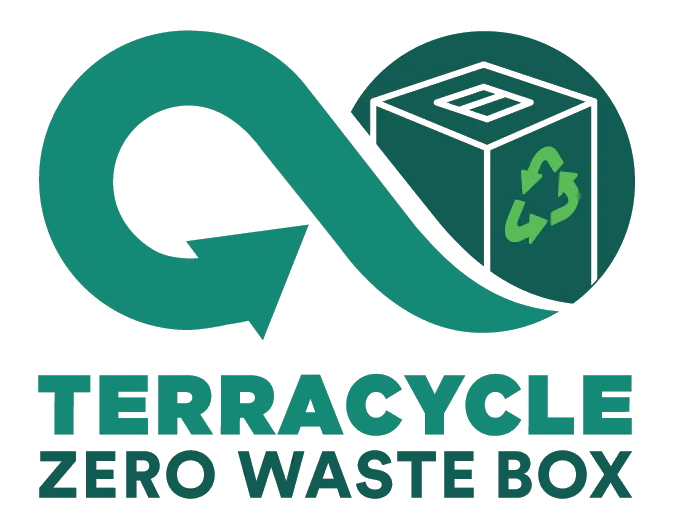 If unsure, opt for a pre-designed wristband
If you're unsure what design you're looking for or just short on time, you can choose from a selection of pre-designed wristbands to meet a variety of different needs. These wristbands are ready to go and quick to order, meaning you can have a custom design in your chosen colour with you as early as the next day.
Some of the pre-designed wristbands that we offer at The Wristband Co. include;
You can also browse our special occasion and festive wristbands, VIP wristbands, or security wristbands to find the perfect solution for your needs. And remember, if you cannot find what you're looking for, get in touch with us – we are always on hand to help.
Ways we can help
At The Wristband Co., we regularly work with businesses of all sizes. We are happy to assist in any way we can, including helping you find the right wristbands for your upcoming event or business operations. Get in touch with us today on 08 8363 4850 or email us at [email protected] for more information.
You can find out more about our company here.
Meet the Author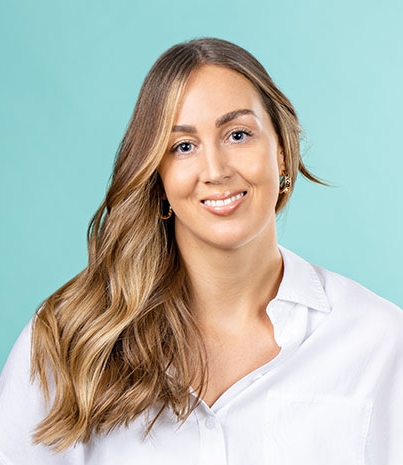 Laura Sayer – Marketing Specialist at The Wristband Co.